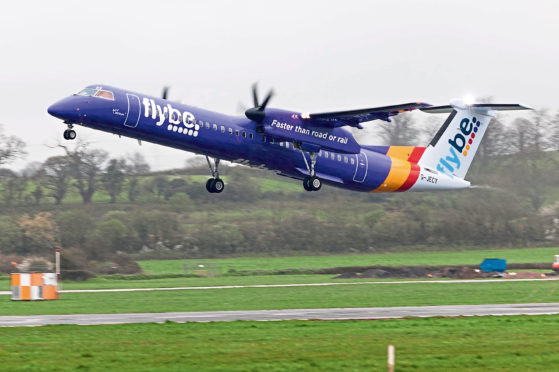 Shares in beleaguered Flybe received a boost yesterday after the regional airline agreed to a rebel shareholder's "valid" request for a general meeting.
Flybe had previously rejected a move by its largest shareholder – Hosking Partners – to have a meeting convened, saying that request did not meet legal requirements.
Hosking is trying to oust Flybe chairman Simon Laffin and spark a probe into a takeover of the airline by a consortium comprising Virgin Atlantic, Stobart Group and Cyrus Capital Partners.
The hedge fund is also reportedly considering a lawsuit against Flybe after accusing its directors of breaching their obligations to shareholders.
Flybe's shares jumped more than 25% to 4p after the Exeter-based carrier said it would convene a general meeting to consider resolutions to replace chairman Mr Laffin with Eric Kohn. The stock later settled closer to 3p.
Hosking, which is led by multimillionaire Jeremy Hosking, wants Mr Kohn to investigate the carrier's recently agreed takeover by the Connect Airways consortium for 1p a share.
Flybe said: "The board is writing today to Mr Kohn to invite him to meet with the nomination committee of the board in accordance with its procedures applicable to the assessment of board candidates.
---
---
"Following this meeting, in the circular to shareholders accompanying the notice of general meeting, the board will make recommendations to shareholders in relation to the resolutions," added Flybe.
In order to remove Mr Laffin and install Mr Kohn, more than 50% of shareholders must approve the switch.
Meanwhile, Flybe has received an alternative financing proposal from ex-Stobart chief executive Andrew Tinkler.
It comprises a "capital injection and replacement of the funding" provided by Connect. Flybe said it "does not consider that the preliminary proposal offers the certainty required" to secure its future.
Under the terms of the Connect deal, which the group favours, the buyers will pay £2.8 million to take control of the main trading company, Flybe, and the Flybe.com website. They will later complete the purchase of the wider holding company.
Connect's partners agreed a £20m bridge loan to keep Flybe in the air and they have also pledged £80m of further funding.