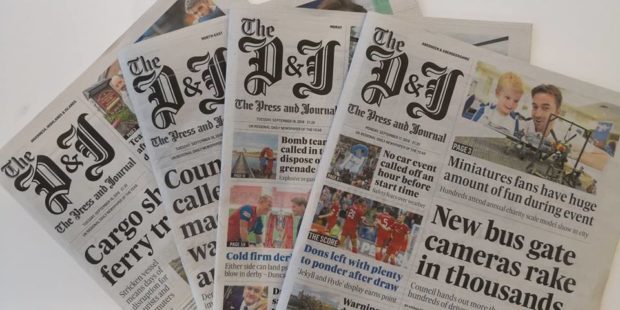 It is one of the most precious freedoms in our democratic society: the ability of journalists to reveal truths, on behalf of the public, that might otherwise remain hidden and to expose them to scrutiny.
That might range from local papers uncovering corruption in local councils, to a national title exposing the misdemeanours of powerful individuals.
Yet the print and digital news media relied upon by 48 million people in the UK every month faces huge challenges, ranging from numerous threats to freedom of speech to worldwide threats of physical violence.
According to Reporters Without Borders, 10 journalists worldwide have been killed so far this year with 172 others languishing in prison.
However, it's not only journalists in far flung locations who can be at risk. The recent murder of journalist Lyra McKee in Northern Ireland was a reminder of threats closer to home, while many journalists continue to receive online abuse simply for doing their job.
It's with these issues in mind that The Press and Journal is backing a national campaign which aims to highlight the power of news media journalism.
Journalism Matters, which launches today, is being run by the News Media Association – an organisation which represents the voice of national, regional and local news brands.
The campaign, which replaces Local Newspaper Week, is a platform for news media titles across the industry to tell readers about the importance of trusted journalism to our democratic society.
Press and Journal editor Alan McCabe said: "It may sound a tad old school but good, solid local journalism is at the heart of what we do and I firmly believe it matters.
"In this ever-changing landscape we continue to play an important role within our communities; people want to feel connected, to know what is happening on their patch and to know that someone is holding power to account.
"We also make a difference; by lending our voice to campaigns we can foster change and, together with our local communities, we can make things happen."
Campaigns by The P&J over the years have ranged from fighting for a fairer deal on energy prices for the Highlands and Grampian, and ending rip-off delivery charges.
The paper has also lobbied against the closure of banks, with the Save our Banks campaign, and most recently, the team successfully campaigned to bring an air ambulance to Aberdeen – helping to save countless people across the north and north-east.
Marie Penman, course tutor for the HND practical journalism-NCTJ diploma at Fife College, said that –post-Leveson and in the era of "fake news" – the public are a "bit more cynical" about journalism and whether it is reliable or trustworthy any more.
However, while that may be true of certain national titles, she said local titles are "totally different" and deserve the support of the areas they represent.
"Local papers really are the voice of the community and can present news in a way that is distinct and unique," she said.
"They base their coverage on local knowledge, which is absolutely crucial when it comes to covering local issues – the closure of libraries, for example, or campaigns to improve healthcare or road safety.
"Local reporters tend to live in the towns they write about – any issues they report on affect them, too.
"They don't just cover communities – they're part of them."