Oil and gas explorer IGas Energy has agreed to take over Singapore rival Dart Energy in an all-share deal.
It values Dart at £117million and creates the UK's largest shale gas explorer weeks before the launch of a major licensing round.
The deal, which is subject to board and regulator approvals but expected to conclude in September, will see Dart shareholders take a 30.5% stake in the enlarged IGas company.
London-based IGas is one of the leading producers of onshore hydrocarbons in the UK.
Andrew Austin, the firm's chief executive, said: "The transaction further strengthens our position financially, operationally and also significantly increases our licensed acreage as we seek to unlock the untapped energy resource that exists in Britain."
The takeover gives IGas access to more than 1million acres of licensed land in the UK, allowing it to drill for oil and gas.
IGas and Dart already have UK shale gas farm-in agreements in place with French energy companies Total and GDF Suez, giving major oil and gas operator backing to the enlarged business.
Total said recently it was to become the first major oil company to explore for shale gas in the UK.
Britain is seen as a European test bed for the controversial extraction practice of hydraulic fracturing, known as fracking.
Concerns about its environmental impact have prompted laerge demonstrations and publc order arrests.
The UK Government is due to launch a major onshore licensing round in the early summer, a tender expected to attract huge interest in shale gas acreage.
IGas said it planned to sell all non UK assets owned by Dart, which has offices in Stirling as well as Singapore, Australia, China, India and Indonesia.
The non UK assets include interests in Australia, Germany, Belgium, Indonesia and India.
Dart will cancel its planned listing on London's alternative investment market, scheduled for Monday.
IGas recently completed its acquisition of Caithness Oil, a North Sea-focused subsidiary of London-based Caithness Petroleum.
Details of that deal emerged last September, when IGas said it had entered into a "heads of agreement" to potentially buy Caithness Oil in an all-share deal worth nearly £9million.
It coincided with Trap Oil saying it had struck a deal to dispose of its stakes in two North Sea oilfields, Knockinnon and Lybster in the inner Moray Firth, and onshore assets to Caithness Oil in exchange for £4.8million-worth of shares in IGas.
Caithness Petroleum was the first firm to develop an oilfield in Scotland from an onshore well, at Lybster in Caithness, which came onstream in 2012.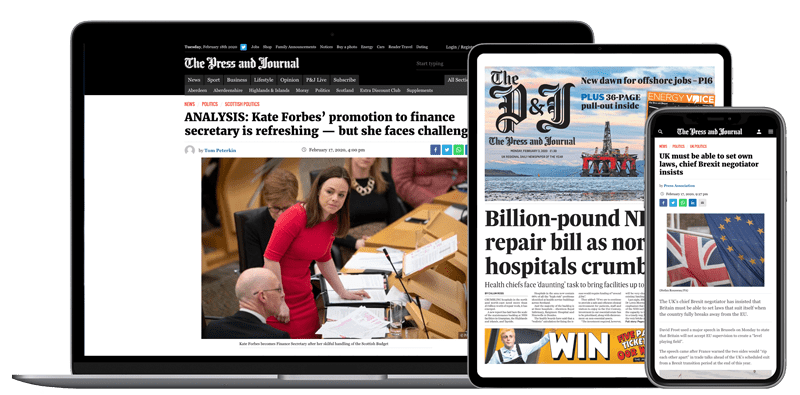 Help support quality local journalism … become a digital subscriber to The Press and Journal
For as little as £5.99 a month you can access all of our content, including Premium articles.
Subscribe