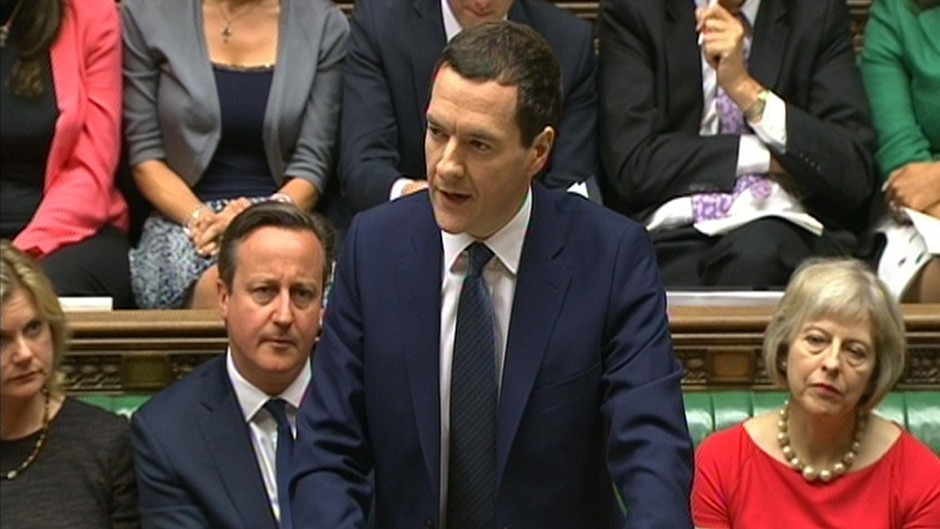 George Osborne has used the first Tory-only Budget for nearly 20 years to introduce a "living wage", dramatically declaring that "Britain deserves a pay rise".
Hailing a new "higher wage, lower tax, lower welfare" Britain, the Chancellor said from next April everyone over 25 would be entitled to £7.20 an hour – and the figure would rise to £9 by 2020.
Some six million people will see their pay increase as a result – and those currently earning the minimum wage of £6.50 an hour will be £5,000 better off by 2020, he claimed.
Mr Osborne said he was following the Conservative tradition as the party that brought in protections for mill workers during the industrial revolution.
"Taken together with all the welfare savings and the tax cuts in this Budget, it means that a typical family where someone is working full-time on the minimum wage will be better off," Mr Osborne told MPs.
But acting Labour leader Harriet Harman responded by claiming the Budget was "making working people worse off" by cutting tax credits for the low paid and grants for students from poorer backgrounds.
The announcement was the final flourish in an audacious package of reforms which amounted to the biggest shake-up in welfare for decades.
Mr Osborne took an axe to tax credits, declaring that families will only receive the handouts and Universal Credit payments for the first two children.
People under the age of 21 will no longer be automatically entitled to housing benefit, all working age benefits will be frozen for four years, and social rent payments will be cut 1% every year until 2019.
He also confirmed that the benefits cap is being reduced from £26,000 to £23,000 in London and £20,000 in the rest of the country.
Student grants are being scrapped and replaced by loans to save £1.6 billion.
But the Chancellor also took advantage of a windfall from higher-than expected tax revenues to slow the pace of the £12 billion welfare reductions – saying the annual cut will not be fully implemented until 2019-20, two years later than previously planned.
Austerity cuts have also been slowed in response to concerns from international bodies such as the OECD, and the Government is not now due to meet Mr Osborne's target of an absolute surplus until 2018-19 rather than 2017-18.
Mr Osborne pointed to the crisis in Greece to argue that spending cuts and a "new settlement" were essential.
"Britain still spends too much, borrows too much, and our weak productivity shows we don't train enough or build enough or invest enough," he said.
"This is the new settlement. From a one-nation Government, this is a one-nation Budget that takes the necessary steps and follows a sensible path for the benefit of the whole of the United Kingdom."
The OBR has forecast that the new living wage – Mr Osborne's retort to critics who have suggested he is not helping working people – will result in 60,000 fewer jobs, but the impact will be reduced because of corporation tax being cut to 18% by 2020.