In the past year alone, 24 north and north-east families took legal action to get their kids into school.
Across Scotland, there are hundreds more in the same position – forced to fight for a human right enshrined in law.
Families say the figures show autistic pupils are the "forgotten children" of the education system.
And these parents aren't just parents. They're also campaigners, advocates, researchers and champions for their kids.
This special investigative series shines a light on their stories.
We talk to Govan Law Centre about the cases they fight – and win – every day for those parents stuck in what they say is a nightmare situation.
Cases such as Cameron McNeill, whose mum spent thousands on private healthcare just to get a diagnosis.
Or brothers Innes and Ivan Scollay, who haven't been to school in years.
And we hear from one traumatised family who told us about the day they found their son alone in a classroom, with bleeding hands.
Across Aberdeen, Aberdeenshire and the Highlands, dozens of families got in touch. Their stories are as unique as their children, but they have one thing in common. Every single one feels they have had to fight simply to secure an education for their child.
What are they entitled to? We unpack the facts about autism in children and what the law says. Then we put their concerns directly to the Scottish Government for answers.
Taking your council to court over lack of autism support
We start our series with Govan Law Centre, who have represented dozens of north-east families at special tribunals. This independent, community-owned practice uses the law to end discrimination – and they do it at no cost to parents.
Many of these cases go to tribunal, the legal route through which a parent can challenge their local authority.
And most of the time, the parents win.
"We have a good success rate, but our priority is to resolve these cases without going to tribunal," says Jennifer Barr, a senior solicitor at Govan Law. "A tribunal can be a very difficult and stressful experience for everyone involved."
Unfortunately, many parents of autistic children don't even know that Govan's services exist.
"Parents are often surprised to learn about the rights they have," says Jennifer.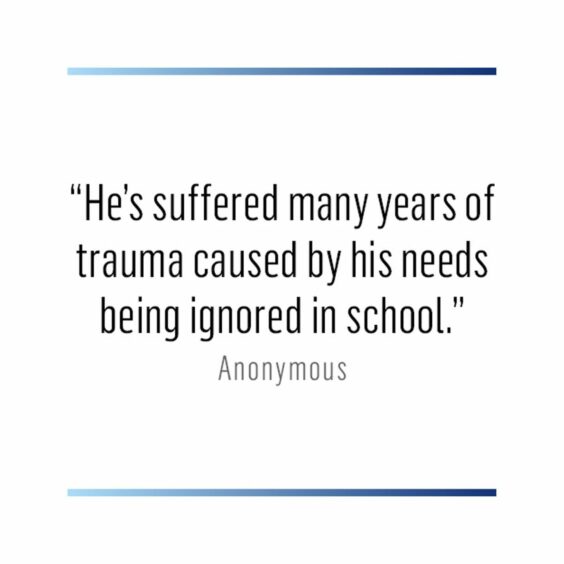 In Jennifer's experience, councils aren't in a rush to clue parents in on autism support. "You have some authorities working very proactively, saying we must get this child to school… and others who let it drop off and forget about it.
"It's like a postcode lottery depending on where you live."
Govan Law Centre handles a lot of cases from Aberdeen and Aberdeenshire. Last year, it took Aberdeenshire Council to court 11 times, and Aberdeen City four times.
"Sometimes you have education managers who are more knowledgeable of the role and what their duties are in terms of making sure they put the support in," says Jennifer.
"You have some very good authorities who go out of their way and try their best. Other authorities aren't quite as aware, or misinterpret what the legal position is."
No cases doesn't necessarily mean no problems. Jennifer says it could just mean that parents in that area don't know their rights, or how to appeal a decision.
Autism support 'a shambles'
So what are parents' rights? The right to an education is enshrined in law, and a failure to make reasonable adjustments for an autistic pupil is a form of discrimination.
The difficulty lies in how children access that education.
Govan Law Centre mostly deals with placing requests – where parents want their child to attend a special school.
Local authorities operate a "presumption of mainstream" where the goal is always to place a child in mainstream school. Sadly, the support doesn't always follow them.
"What you generally see is that the educational authority can't provide the support the child requires, so the parents look at independent special schools," says Jennifer. "There are exceptionally few cases where the council will fund that – they mostly just refuse outright."
Banchory mum Karen McNeill learned this first hand when she asked for her autistic son, Cameron, to get a place at Camphill special school.
This is what happens when agencies fail to work together."
Aberdeenshire Council initially refused but with help from Govan Law Centre, Karen won her case at tribunal. Karen describes the system as a "shambles" and warns: "This is what happens when agencies fail to work together."
In an exclusive interview with the P&J, Karen also reveals she has had to shell out thousands of pounds to get a diagnosis for her son.
Legal protections too hard to secure
Karen's story is not rare. Families across the country have contacted the P&J with stories of being refused support.
One of the main stumbling blocks are Co-ordinated Support Plans (CSPs). CSPs are legal support plans for children with significant and complex needs. Local authorities must provide the support that's written into the CSP.
"There's a chronic problem with CSPs," says Jennifer. "The idea is great but the problem is how it translates into reality. The people who need them just aren't receiving them."
Statistics from the Scottish Children's Services Coalition show that the proportion of pupils with additional support needs has doubled in the last decade. Despite this, the number of CSPs across Scotland has dropped by 64%.
Across the north-east, fewer than 1% of children with complex additional support needs had a CSP in 2021.
Aberdeen City gave CSPs to just 0.16% of primary pupils with an ASN – the lowest in Scotland. In Aberdeenshire, it was 0.49%, and 0.27% in Highland.
When asked for comment, the councils said cases were considered on an individual basis and support provided as needed. Aberdeen City said parents have every right to use the tribunal process, but most concerns are addressed locally.
Highland Council said ASN support is "universal" and doesn't depend on one specific plan.
A spokesperson said: "A range of planning mechanisms are used to support the needs of children and young people in school, including individualised support plans, child's plans and co-ordinated support plans (CSPs)."
'Highland Council are blatantly discriminating against my son'
However, one Highland family claims the council is failing to provide that support.
"Innes had a CSP but this was taken from us after a year," says Jayne Scollay of Wick.
"His needs did not change during this time, but Highland Council felt they could meet his needs by a Child's Plan – clearly that isn't working."
Innes, 14, has been unable to attend Wick High School since the pandemic. Jayne says the school has no safe space to cater for autistic children.
Innes' younger brother Ivan is also autistic, and the family have spoken about the profound lack of support services in rural areas.
Govan Law Centre is now acting on their behalf.
"Highland Council are blatantly discriminating against my son due to his disability and I won't stand back and let that continue," says Jayne.
The family's chances are good: Jennifer says that in 95% of CSP tribunals, the council is instructed to prepare one.
The next challenge, though, is delivering the support. "Often what's drawn up is unspecific and woolly," says Jennifer. "It can sometimes feel like local authorities are making it up as they go along."
So where does that leave the children forgotten from our schools?
One Highland Mum summed it up in devastating terms:
"It's like they want you to fail."
Govan Law Centre's Education Law Unit is Scotland's expert legal resource in the field of school education. It's a national project to end discrimination and it's free to parents. For more information, call 0800 043 0306.
Useful links:
Scottish Autism
National Autistic Society Scotland
Govan Law Centre
Read more from our autism investigation
What are the signs of autism in children and how can I get support?
'By that time he was already suffering' – Aberdeenshire family spends thousands to diagnose autistic son 
'Sometimes life feels just like days' – when services fail autistic children, it's the family who step up