Jayne Scollay is mum and teacher to two autistic sons, Innes and Ivan.
The boys have differing needs but one thing in common: they've not gone to school for several years.
Innes' autism comes with severe social anxiety, and Jayne says Wick High School have failed to provide a safe space to meet his needs – a failure Jayne claims amounts to disability discrimination.
Younger brother Ivan has a range of complex needs that were not met at his local primary school. A fully trained social worker, Jayne quit her job to home school him.
But what's the cost for the families picking up the pieces of a broken system?
For the Scollays, life can feel relentless.
New school has no safe space
Wind the clock back to 2017, and Wick's brand new £50m community campus opens it doors. The campus is long-awaited, replacing the crumbling old high school and two primary schools. It also provides a new swimming pool and library for the community.
However, the busy campus environment doesn't suit everyone. Incredibly, the school doesn't include dedicated spaces for children with disabilities, or a sensory room for pupils on the ASD spectrum. Local parents say the environment is stressful for pupils with additional support needs.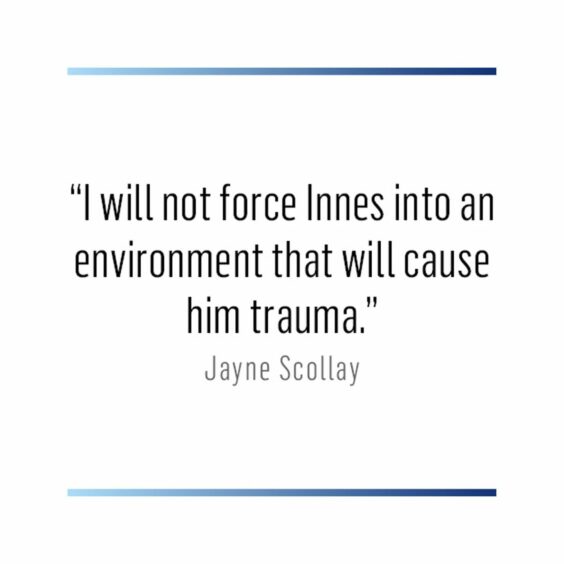 "The new school is open plan, and the main entrance leads straight into the reception and canteen," explains Jayne. "There's no quiet side door he can slip into. That's a huge barrier for autistic kids. His brother will face that same barrier in years to come."
'They put him under a stairwell'
Wick High School tried their best to offer a safe space for Innes, and provided him with a small room to retreat to at breaktime. However it was still a mission to coax him into school each day. The pandemic was the final straw.
"His safe space was taken away at the beginning of Covid and there was no alternative space for him," says Jayne. "Unfortunately this has meant that he hasn't been to high school for several years. Those small accommodations were the only thing keeping him in school. His only way of coping."
The school tried other areas. At one point, Innes could be found crouched under the teachers' stairwell, hoping for a quiet corner to eat his snack.
But the noise of people walking past and the anxiety of being seen was too much for him.
"He couldn't eat his tuck and his anxiety increased," says Jayne. "I started sitting in the car park so he could take his break in my car, but that wasn't an appropriate answer as his brother Ivan is also autistic and he had to sit in the car too.
"If only schools realised that these little things are often the only reason these kids are keeping their head above water. Remove them, and watch them fall."
Disability discrimination
Jayne and her family have had numerous meetings with Highland Council, without any meaningful results.
She has now enlisted Govan Law Centre's help to take the council to tribunal.
"We have Govan Law acting on our behalf, but letters sent by our solicitor reminding Highland Council of their legal duties have so far failed to get any result," says Jayne.
"I have tried to work with the council to find solutions to this problem but it seems they are all talk and no action."
Jayne says the council has discussed the possibility of extensions to the campus in the near future, but no timescales have been given.
"There are many children unable to attend school now and nothing is being done to fix this problem," says Jayne. "I will not force Innes into an environment that will cause him trauma. They must do better at accommodating his needs. Failing to do so is disability discrimination, and I won't stand back and let that continue."
Council says improvements are on the way
Indeed, Jennifer Barr, senior solicitor at Govan Law Centre, says many councils are struggling to support pupils in mainstream education.
"We take on cases of disability discrimination, which is essentially a failure to make reasonable adjustments for pupils with additional support needs, including autism," says Jennifer. "These can be small adjustments like a visual timetable or allowing them to wear a hoodie, right up to larger changes like the design of their spaces.
"Every case is different, but there is always a duty on the local authority to provide an education. Unfortunately, we see many cases where a pupil has not attended full-time school for several years and the council has not taken any steps to bring them back in."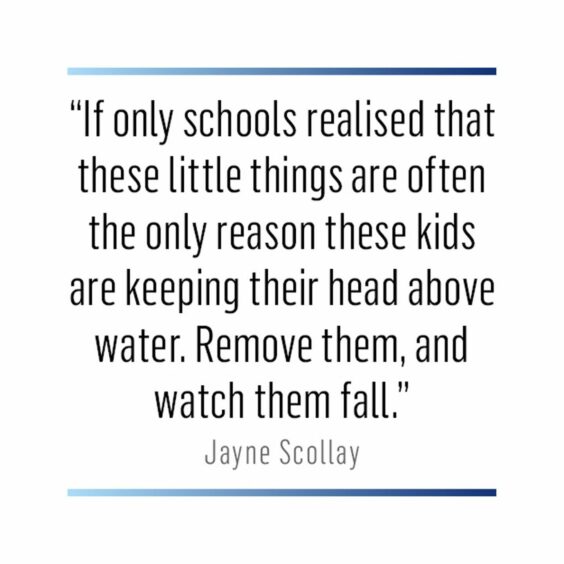 A spokesperson for Highland Council said: "The Highland Council is committed in our work to support children with additional support needs (ASN). We work in partnership with parents, carers, children and young people to identify and understand their needs and to provide appropriate interventions.
"The underpinning principle in all of our ASN policies is that children and young people are supported to achieve their potential. Our policy and guidance on supporting children with autism was written in conjunction with parents and organisations supporting families with children who have been identified as autistic.
"The Highland Council is in the process of relocating a standalone classroom onto the school site at Wick High School which will be available to learners who have an ASD diagnosis."
'I was out in the street, screaming'
For Jayne's eldest son, the goal is still to get him back to school, safely.
For younger brother, Ivan, school will probably never be an option. The nine-year-old has faced significant health challenges in his short life, including cyclical vomiting syndrome. As the name suggests, this illness involves long periods of severe vomiting, lasting hours or even days at a time. It's rare, but more common in autistic children.
Ivan is also non-verbal and prone to sensory thrill seeking. "He has no sense of danger or fear," says Jayne. "When he was two, he broke both his arms and barely reacted. If you're in a house with stairs he'll jump straight from the top without a thought."
This has led to several traumatic events for the family. On two separate occasions, Ivan has escaped the alarms and fences in his back garden and run away.
Jayne recalls a frantic search. "I was out in the street, screaming," she says. "Everyone was looking for him, even neighbours we'd never spoken to."
The police found Ivan safe and well, but he had walked to the nearby river across a busy main road.
In another incident, it was Jayne who took the brunt. The family were having a day out at the harbour when without warning, Ivan ran towards the edge of the pier.
"I knew he was going to jump off, but I managed to dive forward and catch him," recalls Jayne. "I broke my coccyx."
Jayne says her subsequent stay in hospital was the first rest she had had in years.
The sweetest reward
The reality for Ivan, is that he needs round-the-clock care. And with no special school in Caithness, and the council unable to meet his needs so far, that responsibility falls to Jayne.
It's a demanding and often lonely job, but not without its rewards. Mute for much of his childhood, Ivan slowly started to talk at home during lockdown.
"All the stress is wiped out when I hear his voice," says Jayne. "That's our everything."
Jayne's experience as a social worker has helped her to navigate the system. She's a strong and powerful advocate for the autistic community.
"I join committees and help where I can," she says, "But parents have to do all the fighting. That's frustrating and it takes a toll my own health.
"To be honest, sometimes life feels just like days."
Useful links:
Scottish Autism
National Autistic Society Scotland
Govan Law Centre
Read more from our autism investigation
Autism investigation: The north east parents forced to take legal action just to get their child an education
What are the signs of autism in children and how can I get support?
'By that time he was already suffering' – Aberdeenshire family spends thousands to diagnose autistic son