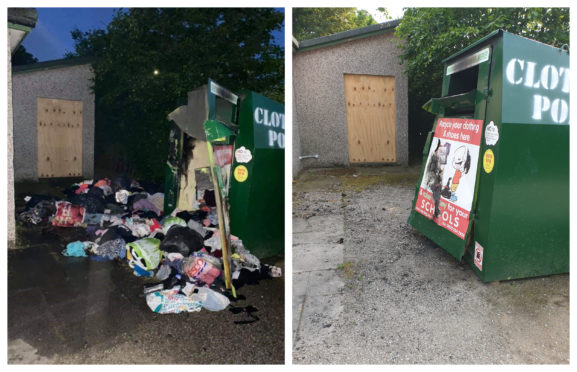 An Aberdeenshire nursery's clothing recycling bin has been set on fire in what police believe to have been an intentional attack.
The emergency services were alerted to a fire at Gordon Park in Ellon, just outside the Gordon Park Early Learning and Childcare building, just before midnight last Wednesday.
Items contained within were destroyed in the blaze, depriving the playgroup of the funding support it would have provided.
Police are now investigating and have urged anyone with information to contact them.
Ellon and District councillor Gillian Owen said the recycling bin was a "valuable fundraising source" for the community-run childcare group.
She has now encouraged anyone with information about the incident to tell the authorities and help with their inquiries – and expressed concern the fire has been one of a number of suspicious incidents in recent months.
Mrs Owen said: "Having seen the mess that these mindless people had created I asked Aberdeenshire Council's waste team if they could go along and help to clear it up.
"They did a really good job. It's just a shame the bin was pretty much destroyed.
"The playgroup use the recycling container to help raise essential funds to enhance their services."
She added: "I have been told that there have been a number of incidences of fire-raising and other anti-social behaviour in and around the building, which has been too close for comfort.
"The police are aware and believe the youths involved have been displaced from other areas of the town.
"I would ask parents to ensure they know where the youngsters are and what they are up to.
"Anyone involved would have smelled of smoke and this type of senseless act needs to stop."
A police spokeswoman said: "We received a report of bins being set on fire in Gordon Park, Ellon, at around 11.05pm on Wednesday, June 24.
"The incident is currently being treated as wilful and inquiries are ongoing."
Anyone with any information is asked to call police on 101 or the charity Crimestoppers anonymously on 0800 555 111.