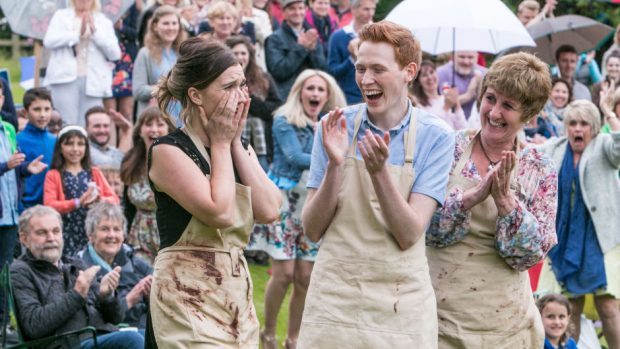 Great British Bake Off winner Candice Brown has the "savvy" to make a fortune from her new-found fame – according to a north-east media expert.
A record audience of 14 million tuned in to watch the 33-year-old PE teacher win the coveted culinary crown in the show's grand finale.
As she embarked on a book-signing tour, the London-born baker was tipped by celebrity agents to earn a seven-figure sum from the victory.
Sarah Pedersen, professor of communications and media at Robert Gordon University, said she appeared to have the credentials to do that.
Professor Pedersen said: "I think she does – she is savvy enough, she is marketable and she has distinctiveness.
"She was definitely the most marketable of the three finalists.
"But it may not be because of her baking. The important thing is that you have something that makes you stand out from the crowd."
Make-up deals might be an area where Candice – who wore a variety of bright lipsticks on the show – could cash in, Prof Pedersen suggested.
And she appeared to be deliberately creating selling-points for herself even while the show was being filmed.
"She was already positioning herself very carefully," the academic said of her decision to make "showstopper" bakes in the form of an East End London pub and reference pearly kings and queens.
Prof Pedersen said: "Your 10 minutes of fame for a lot of these people is all you get, unless you have something distinctive."
And in a reference to last year's Bake Off winner she added: "Nadiya had that, it may be that Candice has it too."
But she sounded a note of caution that those who represented reality show celebrities might not always have their best interests at heart.
"A lot of these celebrities' agents will be looking for the quick win, not always advising with a view to the long-term benefit," she said, stressing that she had no reason to think it would be the case with Candice.
An average of 14 million TV fans tuned-in to watch the climax of the programme's last season on the BBC, compared with the average of 13.4 million who watched Nadiya Hussain take the crown last year.
Fellow finalist Jane Beedle urged viewers to keep watching the show when it moves to Channel 4 next year, without hosts Mary Berry, Sue Perkins and Mel Giedroyc.