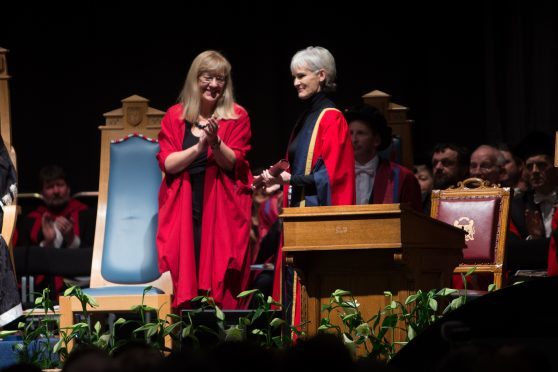 Judy Murray was recognised for her contribution to Scottish sport today.
The world number one's mum was presented with an honorary degree at the University of Aberdeen for her work at both the grassroots and national levels of the game.
Judy Murray has coached many players, including her sons, world doubles number one Jamie and Wimbledon champion Andy.
Speaking before collecting the doctor of 'honoris causa' award in front of graduates yesterday she said her sons recent successes had put Scotland sports scene in the limelight.
An she said this has created a "massive opportunity" to inspire a new generation of players at a grassroots level across the country.
Ms Murray said: "The success of Jamie and Andy and the profile that they have created has meant that there is a huge opportunity to grow the game.
"When I started as a volunteer there really weren't any coaches in our area at the the time.
"We never had any indoor courts, we would play tennis in the summer and badminton in the winter.
"You were lucky if you could find a one line result about a Scottish tournament in the round up of the sports section in the newspaper. It was very much a minority sport.
"It's really hard to believe that we've got two players who are at the top of the world in singles and doubles and that helped Great Britain to win the Davis Cup."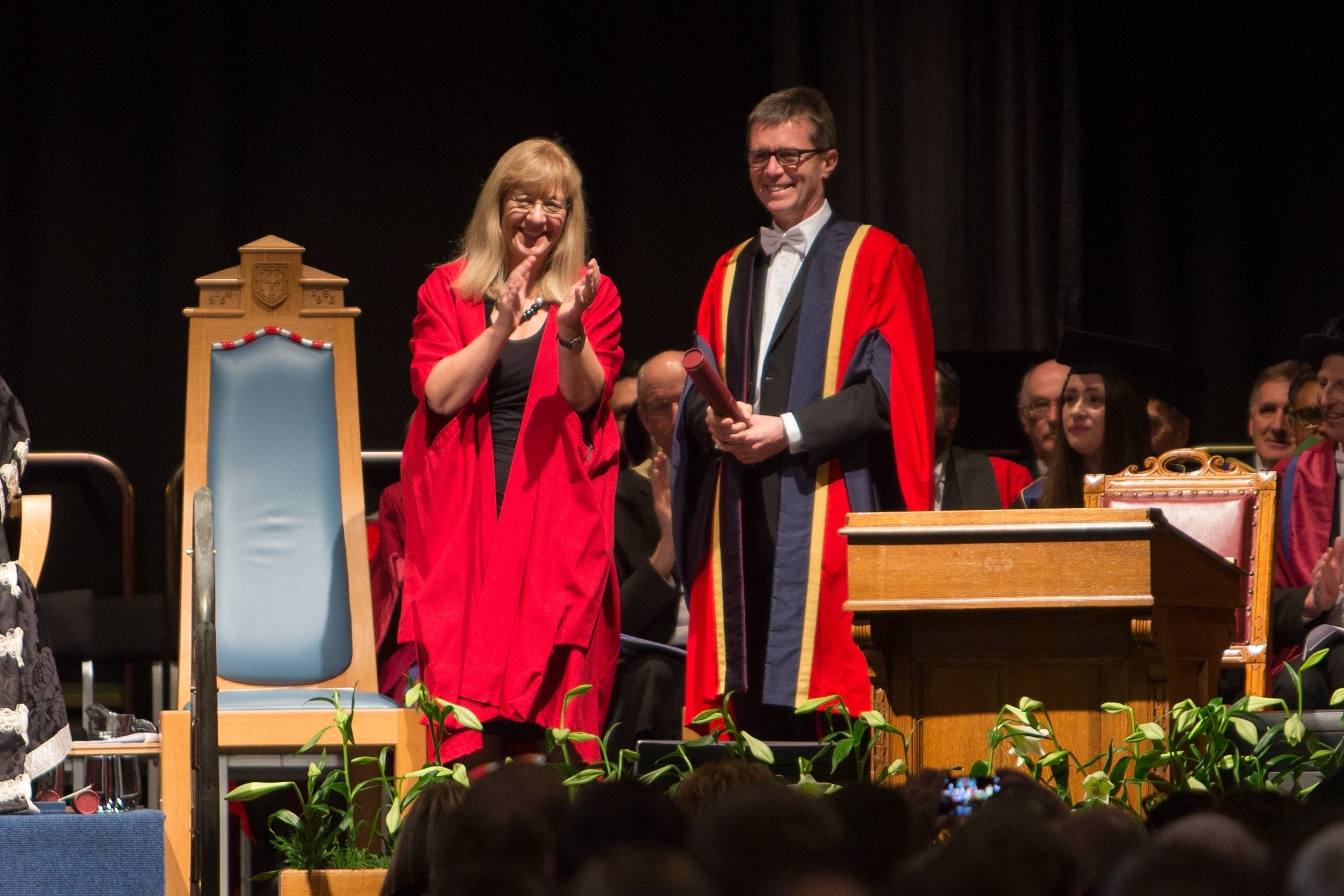 And Ms Murray, who now travels around Scotland coaching youngsters, said she hoped that they could leave a lasting sporting legacy.
She said: "We were just a normal family from a little town called Dunblane – with no track record of success in tennis. So what Andy and Jamie have achieved is quite incredible.
"Everyone is talking about tennis. You go into the schools and they all know Jamie and Andy. They all know the game. And they all want to try it."
However, Ms Murray said the only way to secure the legacy of tennis in Scotland was with further investment in sporting and community facilities.
She said: "We have to create more opportunities for people to try it. A lot of the ability to push the sport forward is going to lie in more public facilities.
"We do need more investment in public facilities, in particular indoor facilities as our weather is terrible. And if you really want to be a successful tennis nation then you need to be able to play 12 months of the year.
"I think what we've shown is that from a backdrop of not very much we have produced something really special.
"I really hope there will be a legacy."
She added: "I hope the government and the Lawn Tennis Association and Sport Scotland will get their act together and really help us invest in what we need to grow the game.
"It's not about what you have it's about what you do with what you have.
"I'm a huge believer in investing in people, and yongu people in particular. I think that everybody has a talent in something and they just need an opportunity – and that often comes in the form of someone opening a door somewhere – someone who champions them.
"I really think the story of Jamie and Andy is one of that anything is possible if you believe and you work hard."
Ms Murray was elected to lead the British Federation Cup team but stepped down from the role in March this year.
The grandmother-of-one picked up her first Honorary Doctorate at the University of Edinburgh on 8 October 2013.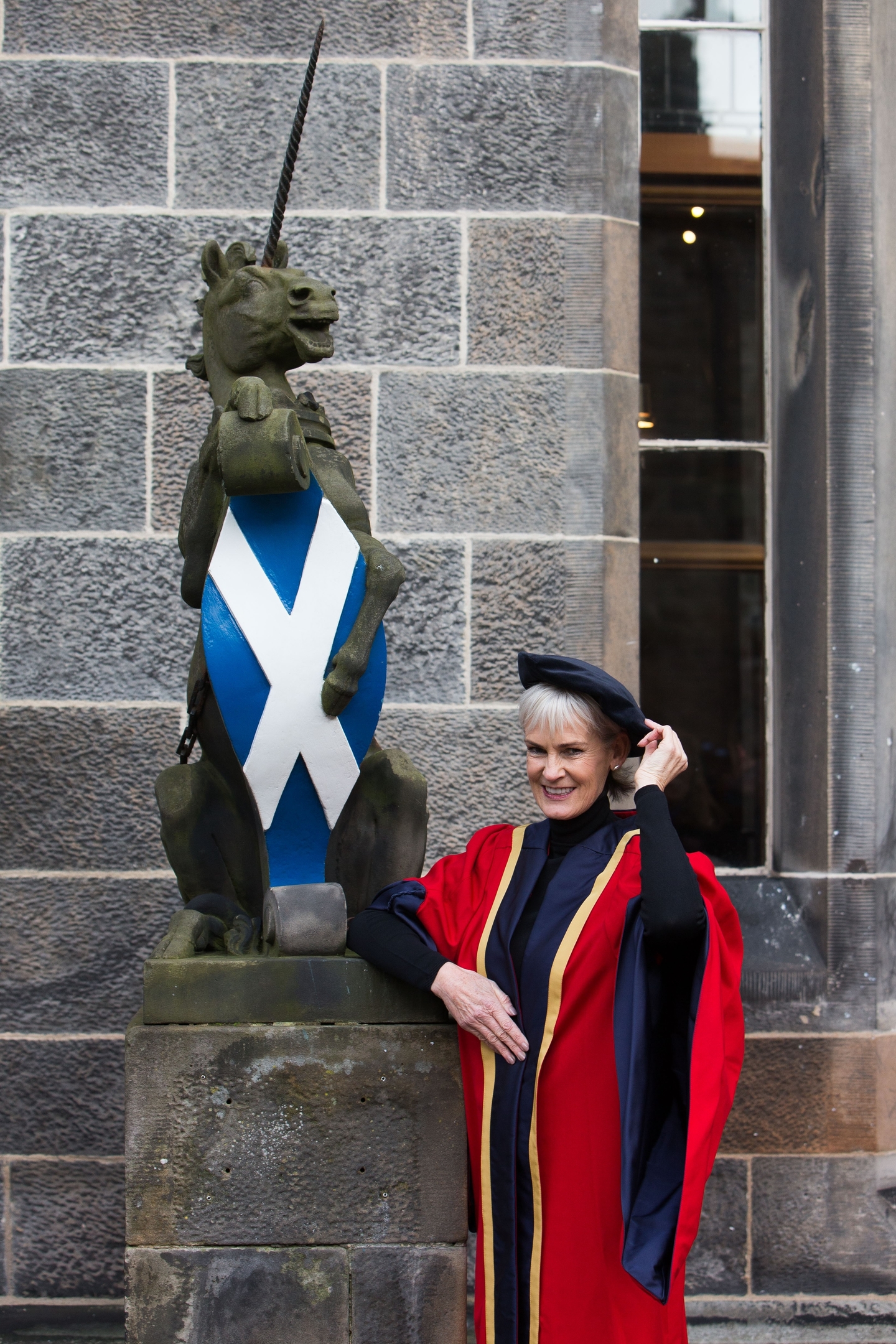 She was then asked to attend a winter graduation ceremony at Stirling University where her charitable work and "outstanding contribution" to sporting excellence was honoured with another degree.
She also graduated with a doctorate along with Scottish rugby stars Alastair Kellock and Gregor Townsend at the University of Glasgow in June.
The tennis coach is due to travel to Dundee today where she will be publicly recognised with an Honorary Doctorate of Education at Abertay University – her fifth such award.Murray was awarded the honorary degree today along with TV and radio presenter Nicky Campbell.
Mr Campbell, an Aberdeen graduate, received the same award to acknowledge his services to both broadcasting and to adoption and fostering.