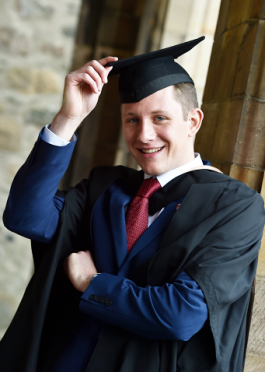 An Aberdeen man will soon be swapping the lecture theatre for the broadcasting studio.
Thomas Danielian, from Peterculter, was awarded an honours degree in music yesterday.
The 22-year-old collected his coveted prize in the grand surroundings of the university's Elphinstone Hall.
Speaking after the ceremony, the former Cults Academy pupil said he felt excited about what the future had in store.
He added: "It's a nice feeling, I've been working towards this for a long time, and now I'm at the end, it's exciting."
Mr Danielian, who specialises in the piano and production, will now embark on a three-month internship with Classic FM.
He said he hopes the experience will provide a good grounding for him to pursue a career in broadcasting, an area which he has been passionate about for a number of years.
He added: "I'm looking forward to it, because I think radio is such a great platform for music and I've always enjoyed listening that way."
As well as studying, he was also an editor at the university newspaper, The Gaudie.
And he said: "I really enjoyed it, it was a really fantastic opportunity to have a brief look into that world.
"I'll really miss the socialising here and constantly being around the people you want to see every day."