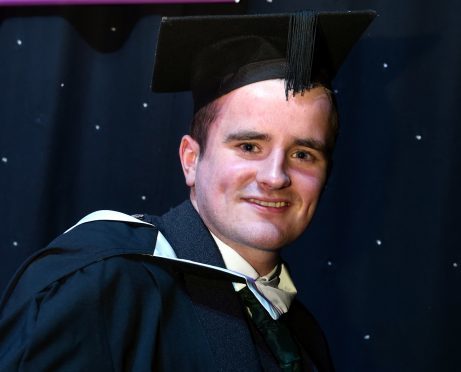 A young man from Caithness achieved his dream of graduating university yesterday at a special ceremony held at Aberdeen's Beach Ballroom.
Martyn Campbell, 22, had wanted to study electrical engineering since he completed work experience in school.
And yesterday he proudly picked up his MEng in Electrical and Electronic Engineering.
Mr Campbell said: "Today has been great, but the biggest relief was getting my final results and finding out that I had passed.
"I was always interested in maths and physics in school, and in third year I was able to do a work experience placement at the Dounreay nuclear plant.
"I was able to spend a week there, and found that I really loved the electrical side of the work.
"Going to university was always my target during high school as I wanted to be the best I could be, in terms of the qualifications before I began my working career.
"I chose RGU due to its well-known high employment rates after graduation and its strong ties with the oil and gas industry, and although the industry is of course not exactly booming right now, I still managed to find employment in the industry."
The 22-year-old was one of the many students at the university who benefited from RGU's ties to the oil and gas industry, and was supported by a scholarship scheme.
Mr Campbell said: "From my second year I was on the Kongsberg Maritime Scholarship which, along with allowing me to undertake invaluable summer placements with them, also provided me with financial support during term time.
"This allowed me to concentrate fully on my studies without having to worry about a job to support myself."
Mr Campbell has now secured a graduate job in Farnborough, and is preparing to move there in January.
He said: "My plan is now to begin working on the Fluor Graduate Scheme down in Farnborough in January as a control systems design engineer, and work toward becoming a chartered engineer.
"I hope to gain experience in the oil and gas industry, and also the many other areas which Fluor operates."