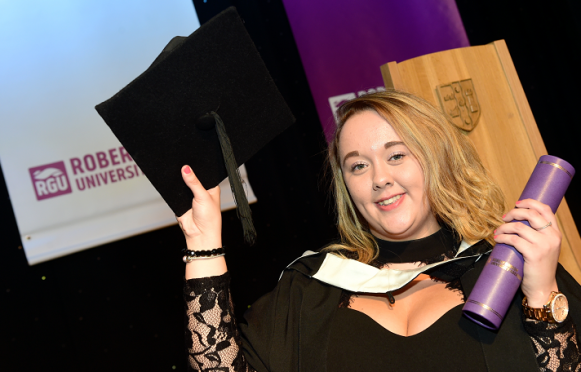 A woman inspired to take up nursing after caring for her grandmother was among students given degrees yesterday.
Gemma Crighton, 21, was one of hundreds of from the Robert Gordon University whose academic achievements were honoured at a ceremony in Aberdeen's Beach Ballroom.
The former St Machar Academy pupil, who secured a BA in adult nursing, pupil looked after her relative during a battle with cancer.
Her grandmother died during Miss Crighton's second year of studying and her great-grandmother only 10 weeks later.
Miss Crighton said: "That period was one of the most difficult times I've ever gone through.
"I was on my nursing placement up in Elgin and had to miss quite a lot of days, due to being in Aberdeen with my family.
"I even thought about leaving university.
"But I realised that I had spent years caring for my grandmother and great-grandmother, and that I could put that compassion to use to care for others in the future.
"So, the experience gave me the determination to push on and make my family proud of me."
During her time at RGU, Miss Crighton took on a number of nursing placements across the north-east, including a role in community nursing at Albyn Medical Practice, urology at Aberdeen Royal Infirmary and 12 weeks in the orthopaedic theatre at Woodend Hospital.
She added: "It was incredible to visit different areas of nursing and get the relevant experience, whether it was in a ward, within a community setting or in theatre.
"I am now part of the newly qualified-nurse programme, which will take up the first two years of my career.
"I am currently working as a staff nurse at Aberdeen Royal Infirmary, within the acute medical sector.
"After a year, the programme will move me to a new area to broaden my professional experience for a second year.
"Once that has finished, I will be able to move wherever I want to go and look at different areas of healthcare.
"It's a really exciting time and the last few years have definitely shown me that I can do whatever I put my mind to."