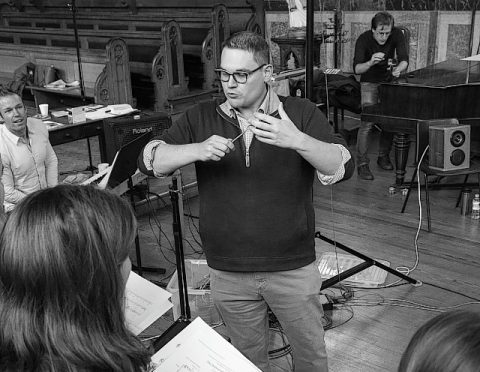 Aberdeen University composer Paul Mealor will release a fresh take on the poetry of Scotland's national bard to raise money for the victims of Storm Frank.
The world-renowned musician's latest album will feature choral arrangements of Robert Burns' work, sung by the university's much-celebrated Chamber Choir.
The album, entitled The Immortal Memory, is being released under the university's own record label, VoxRegis, with all proceeds from sales being donated to projects established by HRH Prince Charles and the Dumfries House Trust following the December 2015 floods in Ballater.
Prof Mealor, whose composition Ubi Caritas was performed at the royal wedding of Prince William and Katherine Middleton at Westminster Abbey in 2011, came up with the idea after discovering that few choral arrangements for Burns' work exist.
"Burns is admired the world over for his poetry and songs but despite his enduring popularity, this does not seem to extend into the choral tradition," he said.
"The richness and depth of Burns' verse lends itself well to choral performance and with the creation of the university's record label, Vox Regis, it seemed a wonderful opportunity for a new interpretation of his much-loved work."
The album follows a traditional Burns Supper and includes many favourites including Auld Lang Syne, Ae Fond Kiss, A Man's a Man and Afton Water.
Traditional singer Robert Lovie, who performed the national anthem at the opening of Glasgow's Commonwealth Games, fiddler Raemond Jappy and soprano Jillian Bain Christie also feature on the recording.
Professor Mealor said the decision to donate all the album's earnings to the victims of Storm Frank was born out of the strong ties he had forged with the Deeside community.
He added: "The Chamber Choir has performed regularly at events in Royal Deeside, including at celebrations at Balmoral, in Braemar and in Crathie Kirk.
"We have got to know the people of this area through our concerts and they have been a tremendous support to the choir over the years.
"We thought it would be appropriate to give something back in recognition of that support."
The Immortal Memory will be launched at a special concert in Ballater's Glenmuick Kirk at 7.30pm on Thursday and is available to pre-order in record shops and online.