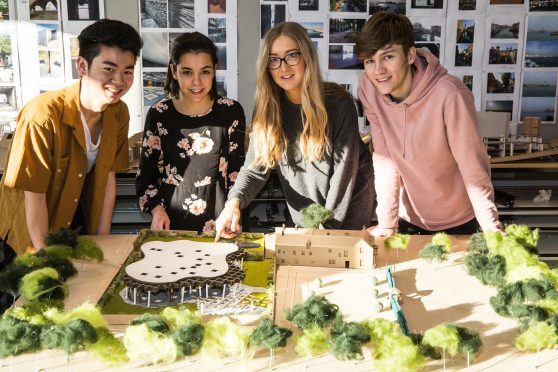 An Aberdeenshire stately home is benefiting from the expertise of aspiring designers and transforming itself into a new venue.
A group of architecture students at Robert Gordon University will host an exhibition of their work to convert the grounds of Elsick House into a new wedding and corporate event location.
The second-year Architectural Design students were tasked with developing plans for a bespoke ballroom venue in the walled garden of Elsick Estate, capable of hosting up to 200 people.
The building sits at the heart of the Elsick Estate, which is owned by the Duke and Duchess of Fife and is undergoing a complete transformation from agricultural land to the new town development of Chapelton.
The students' designs will now go on display at the Bon Accord Centre in Aberdeen, where members of the public will have the chance to view them and vote for their favourite proposal.
There will be a special VIP event on the final evening, when members of the public who have engaged with the exhibition will be invited along to see the winning proposals and meet with the Duke and Duchess and the students.
Gillian Wishart, RGU lecturer who is leading the project, said: "This has been a very inspiring project to work on with the students – a combination of a strong context and beautiful site, and the opportunity for the students to influence a project that should actually come to fruition.
"We are hugely grateful to the Duchess who has truly got behind the project and supported the students from the outset."
The Duchess of Fife has been impressed with the work that has been produced and added: "The students were briefed several months ago, we set them an ambitious project to create an eye-catching and complementary garden room for entertaining up to 200 guests, and they have achieved this with such style and professionalism.
"It is very fitting that their models and designs should be taken into the heart of Aberdeen for all to see the results.
"I am sure anyone passing through the Bon Accord centre will be impressed with their interpretations of a stylish contemporary building alongside Elsick House in the walled garden."
The designs will be on public display from March 3-9 at the Bon Accord Centre.