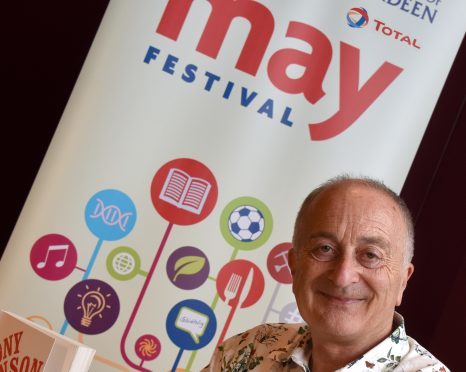 It featured a wide array of stars and one, in particular, shone with his famous cunning plan.
And that explained why Aberdeen University was celebrating after being graced with thousands of visitors at its fifth annual May Festival.
The campuses at Old Aberdeen and Foresterhill were transformed into venues for debates, workshops, talks and exhibitions as part of the city's Festivals Collective.
The programme of over 150 activities included demonstrations by scientists from the Rowett Institute, a produce market in Elphinstone Hall and a 'Hall of Mayhem', providing children and adults alike with interactive fun.
Notable guests included TV personality Sir Tony Robinson – of Blackadder fame – Call the Midwife actor and Aberdeen University history graduate Laura Main and Man Booker Prize nominee Wyl Menmiur.
In hailing the success of the event, festival manager Lottie Rodger said: "Once again we have had an absolutely fantastic weekend, with thousands of people attending the festival.
"There was a brilliant atmosphere on campus all weekend and the enthusiasm of all our staff, students and volunteers helped to make it a memorable experience for all those who attended.
"We would like to thank our sponsors for their generous support and for helping us to put on such a great festival."
Iain Brotchie, communications manager of Total E&P UK, added: "We were very proud to support the May Festival and congratulate everyone for successfully delivering a weekend of events that attracted such high numbers of visitors to Old Aberdeen.
"The festival captured visitors' imaginations, sparked curiosity and satisfied everyone's thirst for knowledge, thanks to the expertly presented programme of talks, workshops and musical concerts."