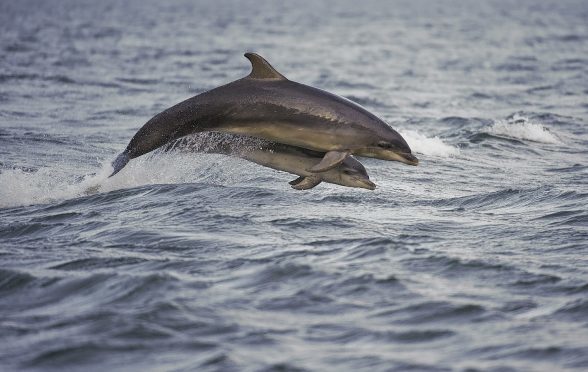 The developer behind a renewable-energy scheme taking shape off the north-east coast has named the projects that will share a £2.6million pot of funding for research into the environmental impacts of offshore wind generation.
Swedish energy company Vattenfall said yesterday the research programme at the European Offshore Wind Deployment Centre (EOWDC) in Aberdeen Bay would deliver "fascinating insights" into the lives of bottlenose dolphins, salmon, sea trout and sea birds.
The socioeconomic impact of offshore windfarms will also be examined as part of the overall research programme, which is thought to be the biggest of its kind.
EU cash will pay up to half of the cost for studies which Vattenfall said would put Scotland "at the industry forefront of research and development".
One of the funded projects will see the River Dee Trust and Marine Scotland Science monitor the interactions of salmon and sea trout with wind turbines.
Another, involving St Andrews University and its Sea Mammal Research Unit, aims to improve the understanding of bottlenose dolphin movements along the east coast.
Dolphins will be monitored throughout the development phase and part of the operational stage of the 11-turbine EOWDC scheme, which is scheduled to generate power in spring 2018 and operate for at least 20 years.
Glasgow-based environmental consultancy MacArthur Green will study links between offshore windfarms and auks, while Oxford Brookes University will focus on the socioeconomic impacts of the EOWDC from construction through to the scheme becoming fully operational.
Adam Ezzamel, EOWDC project director at Vattenfall, said: "The 92.4MW (megawatt) EOWDC test and demonstration facility offers an unmissable opportunity to conduct this pioneering research and monitoring programme."
Nearly 100 applications were submitted for the research programme. A shortlist of 16 were chosen by an expert panel representing environmental agencies, scientists, Aberdeen Renewable Energy Group (AREG) and Vattenfall.
Panel chairman Stuart Gibb, director of the Environmental Research Institute at the University of the Highlands and Islands, said: "We believe those projects that have been successful will effectively inform development of the EOWDC facility and deliver real, tangible data that increases our understanding of the relationship between offshore renewable-energy developments and the environment."
AREG chairman Jean Morrison added: "The studies will ensure scientific learnings on the impacts and benefits of offshore wind can be shared and understood, which will help future developments."
Business, Innovation and Energy Minister Paul Wheelhouse MSP said: "It is very positive news that three of the four successful project bids were from Scottish organisations."