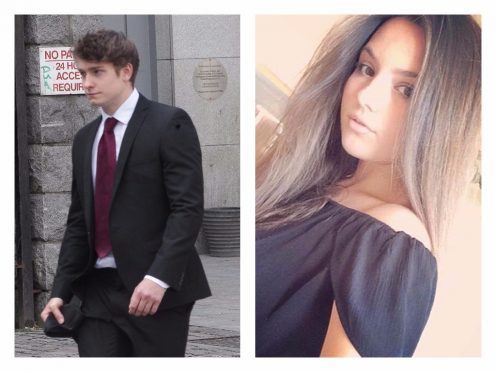 In the days leading up to Emily Drouet's move up to Aberdeen to start university, her parents took her on a big shopping trip – filling up two cars with items to help her feel at home in a new city.
They stopped off at John Lewis and Ikea, loading up on bedding, plates, cutlery and a laptop and a myriad of other items before helping her unpack and decorate her room with fairy lights and a picture collage of her family.
It should have been the start of an exciting new chapter in 17-year-old Emily's life. But just six months later, she committed suicide after being verbally abused and physically assaulted by her boyfriend Angus Milligan.
The 21-year-old psychology student was last week spared jail, and put on a year-long supervision order after being convicted of a campaign of abuse against the bubbly teen.
Emily's mother, Fiona, was furious at the sentence and described Milligan as a "vicious abuser" who "stole" her daughter's life.
Read her full statement here
VIDEO: Boyfriend of Aberdeen student found dead after 'campaign of abuse' spared jail
Mrs Drouet and her husband Germain, who have two other children, are considering taking legal action against Aberdeen University and have called for a fatal accident inquiry – vowing they will do all they can to ensure no other family goes through their heartbreak and anguish.
Now, it has emerged Mrs Drouet had concerns about Milligan from the moment she met him in December 2015.
She said: "The first time Emily mentioned him was when she was home for Christmas and she was going through to Edinburgh to meet one of her friends.
"However, the friend texted Emily when she was already on the train, saying she had a sore throat and couldn't make it. Emily texted us to say that, luckily, one of her friends who lived in Edinburgh was doing his Christmas shopping and that he would meet her.
"That turned into her going to Edinburgh to meet him on another day, and them going for lunch, and her staying a bit later. There were storms that night, and she asked if it was OK if she stayed through, but I wasn't happy about it and so I said no.
"I told her to get the train back through to Glasgow and I drove to Queen Street station to meet her.
"At this point, I said: 'So, what is this, Emily, is he a boyfriend?' She replied no, they were just friends. She said they had kissed, but it was no big thing. But then he came through to the house one day during the Christmas holidays.
"And I knew from the first moment there was something not right about him. He stood with his hands in his pockets. It was a very arrogant stance and I felt very uncomfortable around him.
"He was very sure of himself, had a very precocious attitude and I don't think Emily looked comfortable with him.
"He took no interest in us and asked no questions.
"I should have let the phone ring"… Mother of tragic Emily reveals how she called her daughter just hours before she took her own life
"Eventually, I had to say I didn't like him. I didn't know what it was. But she knew because she told her friend: 'My mum doesn't like him."
Mrs Drouet and her husband began noticing changes in Emily, claiming she "lost her sparkle" and started missing lectures.
When she went back home to Glasgow for her 18th birthday in January 2016, her parents noticed she was avoiding eye contact and put it down to her being tired.
And it became clear that Emily's relationship with Milligan had deteriorated after he poured a glass of beer over her head during the birthday night out she had been so excited about back in Aberdeen.
Then, day after day, week after week, the drip-feed of little cruelties increased and gradually took their toll on the youngster.
Or, as Mrs Drouet recollected: "It was Valentine's Day and Emily came down for her friend's 18th birthday party. I had put out wee boxes of heart-shaped chocolates for them, but she wasn't right.
"I made her look at a picture I'd seen taken of her recently and then one of her before she left for university, and I told her: 'Emily, you've lost your sparkle'.
"I just thought she was tired because of all the partying. I didn't know what else was happening to her. We just thought perhaps the course was catching up with her and that it was normal student worries.
"But he was abusing her every time he saw her. He was shattering her mentally. By then, she was denying she was seeing him, because she knew we didn't like him.
"In mid-February, I read a tweet in which she said: 'Mums are always right about boys.' I told her: 'I saw your tweet, would that be about anybody in particular?' But she replied: 'Ha ha, no, just chatting in general.
"She was defending him even then. She felt sorry for him and saw him as a victim. Emily was a very emotional person. There were so many signs, but we didn't piece them together."
It has subsequently emerged Emily requested several meetings with Aberdeen University's Student Resident Assistants, but her mother claims nothing was done to improve her daughter's safety as Milligan's violence escalated.
Tragically, Emily killed herself on March 17, 2016 – less than an hour after texting friends about their night out. It is believed Milligan – who was spotted on CCTV – arrived at the flat and they rowed, prompting Emily to text a friend saying: "Angus has just been in and he's really angry. I don't think I can go out tonight."
Police woke Mrs Drouet and her pilot husband up at 1.30am, and from there their lives were torn apart.
"We went down and there were two policemen at the door," she said. "From that moment, everything I remember is like a bad dream. We went into the living room and they were urging me to sit down. One of them said: "Is your daughter Emily Drouet?'
"I said 'yes'.
"And does she go to the University of Aberdeen?'
"I said 'yes'.
"And he said: 'Your daughter was found with a ligature around her neck.
"And I went: 'What! I don't understand. Is she OK?
"And he said: 'Your daughter's dead.'
"We didn't believe it. I kept saying 'No, no, you have got it wrong, it's a big mistake.
"I can honestly say that, from that day, our lives were over. We'll never recover. Having to go and see your daughter in a police morgue is something nobody should ever have to do."
The family do not understand why Aberdeen University has not expelled Milligan, although last night the institution confirmed an internal disciplinary process was under way.
A spokesman said: "Registered students who commit an offence are automatically subject to the university's internal disciplinary procedures.
"However, in circumstances where criminal proceedings take place, we will suspend our own disciplinary procedures until the criminal case is concluded, at which point these will recommence."
They would not comment, citing data protection, on whether Milligan will be free to carry on his studies in future.
Professor Margaret Ross, from the university, added: "Emily was a bright and capable student and her death was a tragedy that was deeply upsetting for all of us.
Boyfriend of Aberdeen student found dead in halls 'showed no remorse' for campaign of abuse says parents
"The university is committed to supporting students who are experiencing difficulties during their time here, but we must balance respecting our students' rights as independent adults with our own responsibilities to offer support.
"Having reviewed the circumstances surrounding Emily's death, we are satisfied the level of support offered by the university prior to her death was appropriate, based on our knowledge of the circumstances at the time.
"When Emily made contact to discuss the situation with Angus Milligan, we took care to respect her wishes, while seeking to encourage continued dialogue in order to resolve a complex situation.
"Emily's death was a tragedy that we could not have foreseen based on our contact with her, or any other factors of her life at university.
"Nonetheless, we have since carried out a review of our student support procedures, and where we have identified opportunities we have made changes to enhance the level of support available."
Meanwhile, for the Drouets, there is no peace, no closure, just a determination to gain justice for Emily.
Mrs Drouet said: "We are very concerned he was not suspended from the halls of residence as soon as the investigation commenced.
"It is beyond our understanding that he remains in the university. He should have been suspended pending investigation which would also match the university's code of practice."
They are also working with women's groups to spread the message that violence, intimidation or harassment of any kind against women is never acceptable.
Mrs Drouet said: "If somebody had said to me that my daughter would be physically and mentally destroyed by someone I would have said 'don't be so silly'. This is not how it's supposed to be.
"He convinced her she was absolutely nothing. He achieved his goal.
"It makes me feel so angry that he made her feel so low."
The court case
Angus Milligan, from Edinburgh, was spared jail despite admitting attacking Emily Drouet in the weeks before her death.
The 21-year-old was sentenced to 180 hours' community service and given a one-year supervision order for assault and threatening behaviour towards the Aberdeen University student.
Milligan, a former public school pupil, admitted choking and slapping the 18-year-old, in addition to sending her a series of threatening and obscene texts.
Miss Drouet was found dead at her university halls in March 2016.
A week earlier, she had consulted the university's student resident assistant, showing signs of physical harm by Milligan, but said she "didn't want to get him into trouble".
Neither the police nor her parents were contacted following the meeting.
Milligan pleaded guilty in May to assaulting Miss Drouet, threatening and abusing her using abusive and offensive language, and sending offensive, indecent, obscene and menacing texts.
Five other charges, including one alleging he attempted to choke her minutes before she killed herself, were dropped because of a lack of evidence.