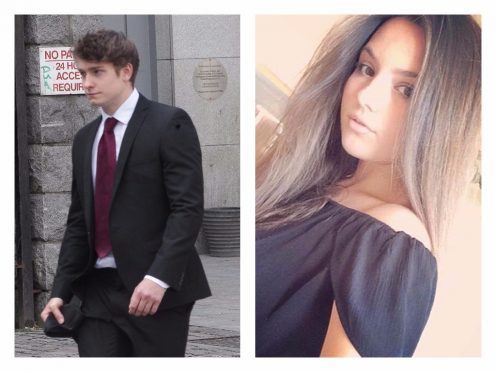 The boyfriend of an Aberdeen University student who took her own life after weeks of his abuse has been thrown off his course.
Angus Milligan was convicted last month of a campaign of abuse against 18-year-old Emily Drouet, who was found dead in her halls of residence on March 17 last year, shortly after he left her room.
He was sentenced to 180 hours of community service but was spared jail – raising questions about his academic future.
'Uni must throw out violent abuser who stole tragic Emily's life'
After the verdict, Miss Drouet's heartbroken parents Fiona and Germain said it was "beyond their understanding" Milligan had not been immediately expelled over his treatment of the aspiring lawyer.
It is now understood that he has been barred from returning at the start of the new academic year to continue his sociology degree.
But the family criticised the university's handling of the issue.
In a carefully-worded statement, the university said that it "has the power to apply its discretion to consider whether or not any student who applies should be readmitted.
VIDEO: Boyfriend of Aberdeen student found dead after 'campaign of abuse' spared jail
"Alongside academic judgment this would include attention to a student's conduct, in particular conduct affecting other members of the university community," it added.
Mrs Drouet said: "This was an opportunity for Aberdeen University to state explicitly and unequivocally that it will not tolerate abuse and violence against female students but it has failed to do so.
"Many students and parents are genuinely anxious to know whether Milligan will be returning for the new term and the lack of clarity in this announcement is concerning.
"Rather than express a zero tolerance of abuse and violence the university has issued a neutral, ambiguous statement which doesn't say whether he has been expelled or politely asked to leave."
She added:  "Our daughter was driven to take her own life following a campaign of violence by an Aberdeen University student on its campus.  Only through the press did we learn it was finally carrying out an investigation.
"We learned of disciplinary proceedings against Milligan from the media and now we learn, again through the media, that he has possibly been expelled.  We have never been contacted directly by the university regarding these disciplinary proceedings or any outcome.
"Knowing that other female students will not be at risk from this violent criminal is certainly some consolation but the university has much to do to reassure students and parents alike."
As well as bombarding Miss Drouet with menacing and offensive messages, Milligan, a descendent of renowned philanthropist Andrew Carnegie, also attacked her – leaving her scared for her life.
In court last month he admitted abusing her but five charges, including one alleging he had attempted to choke her before she killed herself, were dropped due to a lack of evidence.
Aberdeen North MP Kirsty Blackman said: "It is right that universities make the welfare and safety of students a priority, and they must act to prevent risk to their wellbeing wherever possible. I am pleased that Aberdeen University are looking at their staff awareness to ensure students can be helped if they need it.
"I hope students returning to the University of Aberdeen in September do so in an environment in which they feel safe and are encouraged to speak up about any abusive behaviour they may experience or become aware of."
Scottish Women's Aid chief executive Masha Scott said last night: "This is not just about young women who are victims – this is about young men who are perpetrators."