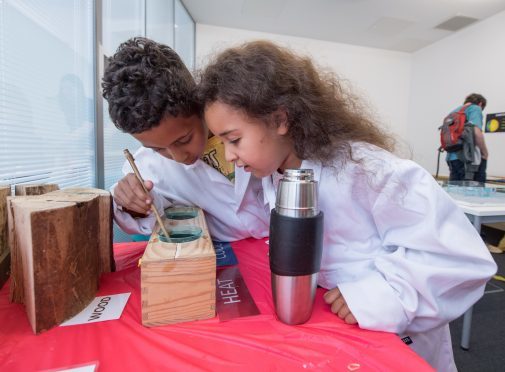 Budding scientists built their own robots before sending them into battle at the start of an annual celebration of technology in Aberdeen.
Scenes reminiscent of TV series Robot Wars played out as children pieced together and then programmed their own automatons at the TechFest event.
Organisers yesterday revealed that 2,000 people flocked to the opening weekend of the 24th edition of the festival, which also allowed youngsters to don white lab coats and carry out their own experiments.
It took place at the university's Garthdee campus, having relocated from Aberdeen's Town and County Hall due to rising popularity.
Some 30 different workshops, presentations and shows were on offer – all aimed at sparking a passion for science, technology, engineering and mathematics (Stem) subjects in children.
Alies Bartelds, acting managing director of TechFest, said youngsters and parents from across the north-east had visited the campus for some "hands on" experience of science and technology.
He added: "The new venue proved extremely popular with the children and adults who joined us, we were able to provide everyone with the opportunity to get involved in exciting activities, experiments and presentations."
As well as the Robot Sumo Challenge, attendees came face to face with snakes and lizards when learning about animals
They also sampled the life of a scientist by carrying out experiments about dissolving and solubility.
Some youngsters were given an insight into subsea engineering, while aspiring pilots honed their flying skills with an interactive workshop explaining the science behind flight.
The event was funded by BP and Shell, and sponsored by Marathon Oil, with entrance costing just 1p for children and £1 per adult.
Senior lecturer at Robert Gordon University's School of Engineering, Garry Brindley, said the festival helped showcase the research going on at Garthdee.
He said: "Bringing the public into our facilities in Garthdee gives us the chance to demonstrate some of the exciting work that goes on here."
TechFest 2017's public programme will run from September 11 to September 25, at various venues.
Wildlife presenter and cameraman, Gordon Buchanan, will recount his experiences with some of the world's most fearsome creatures at the opening event.
More information is available at www.techfestsetpoint.org.uk