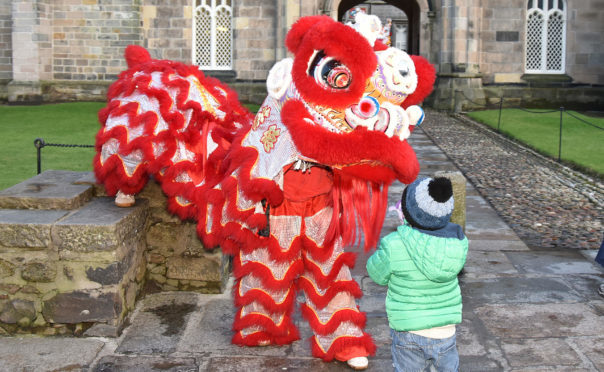 A giant dragon has paraded through the streets of Aberdeen as preparations for the Chinese New Year get underway.
Marking the Year of the Dog, the celebrations will take place throughout Aberdeen and Aberdeenshire during the next two weeks.
Aberdeen University will spearhead some of the largest gatherings, with more than 1,000 children and adults expected to turn out over the fortnight of festivities.
Its calendar of events, organised by its Confucius Institute, kicks off a weekend of entertainment on Saturday.
Some of the attractions on offer include a comedy show, and performances from Redphoenix dance troupe and music group Harmony Chinese Ensemble.
Scotland's famous giant pandas, Yang Guang and Tian Tian, who live at Edinburgh Zoo, will also be the focus of a talk by members of the Royal Zoological Society.
Michelle MacLeod, director of Aberdeen University's Confucius Institute, said: "With more events this year, Chinese New Year is shaping up to be bigger and better than ever.
"Last year, more than 800 people attended our King's College campus, and this year we are expecting well over 1,000 people across the four events we have planned."
Celebrations will move into the wider north-east the following week, reaching Inverurie on Saturday, February 24.
Its town hall will host a demonstration from Yee's Hung Ga Scotland Kung Fu, music and dance, and a number of workshops and games for all ages.
Ms MacLeod added: "Our celebrations are a great way for people to find out more about Chinese traditions, language and culture.
"I would encourage anyone with an interest to join us for an authentic Chinese New Year experience."