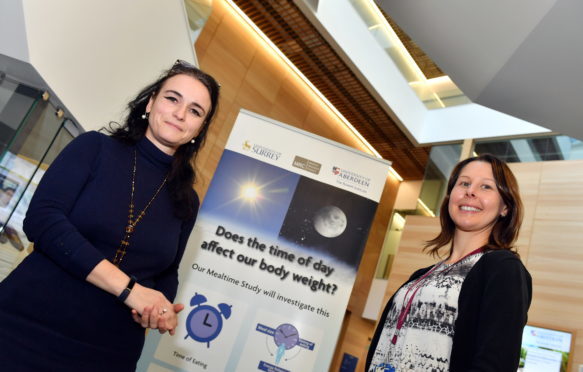 Free breakfasts are being given to volunteers taking part in a new study to find out if eating more food earlier in the day can help you lose weight.
Scientists are testing the theory that people should start their morning with the heaviest meal of the day to help them stay healthy.
Aberdeen University's Rowett Institute will be launching the new research project with the participants involved required to eat a strict diet over 10 weeks.
Volunteers will spend the first five weeks enjoying large breakfasts with smaller evening meals before finishing off the study reversing the process.
Professor Alex Johnstone, who is part of the team behind the project, said she hopes the data gathered could be used to inform policy makers, food producers, healthcare providers and others to create healthier attitudes to meal times.
She said: "We're trying to find out more about how the time you eat your meals influences your metabolism and weight loss.
"Everyone taking part gets their food provided for free from our kitchens, they can come down and collect their meals three times a week and then on some days they will have tests to conduct as well.
"And of course it's a weight loss study, so there's the benefit that all of the volunteers will lose weight.
"Our hypothesis is that a bigger breakfast will have a greater impact on physiology, and could help people to lose more weight, because other work has suggested that."
The research team hope to recruit 30 volunteers for the project, which will run for the rest of the year and into early 2019.
They will measure the impact of changing meal times by monitoring volunteers recording their metabolism after eating with a special hood that analyses breath.
Prof Johnstone added: "This work could be very far reaching, as a lot of people are really interested in how nutrition can have an impact on health."
The study is open to overweight men and women over the age of 18 who usually eat breakfast at least five days a week.
Any women who wish to take part must be on a hormonal contraceptive.
To sign up, call 01224 438700.