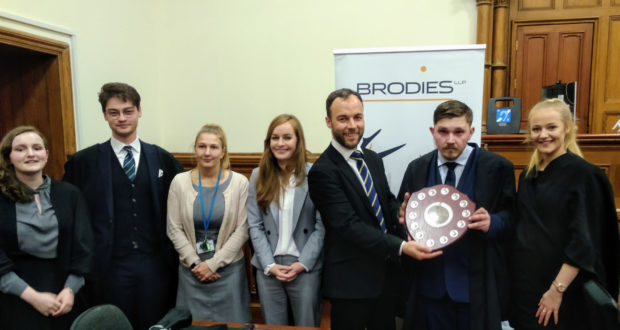 Students at Robert Gordon University have beaten their local rivals in a fiercely contested law competition for the third year in a row.
The winner of the Granite City Mooting Competition – Alex Rae and Justine Anderson – pitted their wits against their peers from Aberdeen University at Aberdeen Sheriff Court.
Sponsored by Brodies LLP, the annual derby allows students to put into practise the skills they acquire during their law studies, while adhering to the protocols of a real court.
Brodies' Malcolm Mackay said: "Mooting and debating are practical ways of developing and honing litigation skills required of a court lawyer.
"Brodies are fully supportive of training and regularly support activities like this at university and junior lawyer level.
"The two teams did very well and Sheriff Summers, who kindly gave up his Wednesday evening to judge the moot, said that this was a very closely-fought competition with little between RGU and Aberdeen.
"The preparation and quality of argument by the students meant it was an enjoyable night for participants and spectators alike."