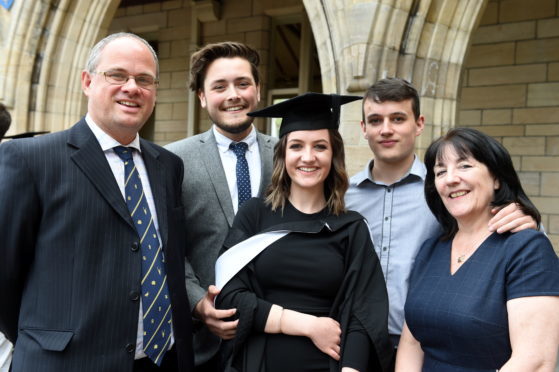 The sun was shining for Aberdeen University graduates yesterday as they bid farewell to the home of their studies.
Friends and families gathered outside the historic Elphinstone Hall in the city before the ceremony while a piper played music for the waiting guests.
A sacrist led the procession into the hall guiding students into their seats while the audience sang the formal graduation hymn Gaudeamus.
Following a welcome speech by music student John Frederick Hudson, the degrees were awarded to students in a ceremony that celebrated tradition and the university's heritage.
University rector Maggie Chapman attended the event and voiced her support to the students.
She said: "Many congratulations to all who are graduating from Aberdeen University this week. Well done on your achievements, have a wonderful, happy week and all the best for your futures."
Guests were also entertained during the ceremony with music from an organist and a special accordion performance from first year student Euan Reid.
In his address to the graduates, Professor Tim Ingold, chair of the social anthropology department, tasked the new graduates with repairing the "madness of the world" and put their new-found knowledge to good use.
Proud parents watched as each student received their graduation certificate in front of their peers, teachers and politicians.
And after a rousing performance of God Save the Queen, the students were released from the hall to celebrate the end of their studies with their families and friends.
Graduations continue throughout the week, with honouree degrees also being awarded.