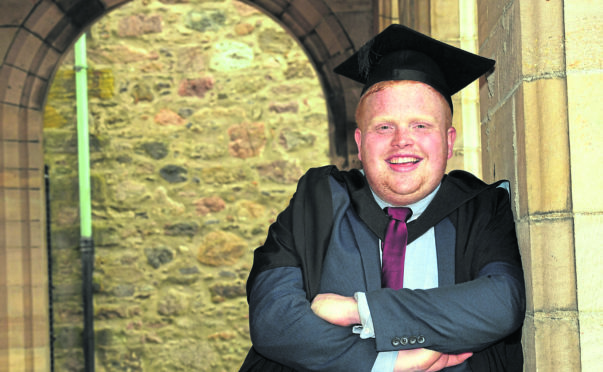 One of yesterday's graduates is now looking forward to a well-earned break before embarking on the next step towards his dream job.
Calum Jackson, from Portsoy, admitted graduating felt like a "relief".
The 22-year-old is now taking a year out after four years of studying law and English at Aberdeen University.
He said: "I'm going to use some time to save up some money before coming back to law and deciding on my options. I'd love to move to Edinburgh and study for my law diploma there.
"It's been a very intense course and I think it will be good to have a break. In second year we had six exams in eight days which was really tough but I made it through."
Moving from a small village to the Granite City was initially a challenge for the former Banff Academy student, but now he is "ready to go further afield" after his year out.
Mr Jackson said he had loved his time at university, adding: "I was always too busy studying or sleeping to join clubs or societies. But I've still made amazing friends and loved the social aspect of university."
Mr Jackson celebrated with his friends last night and had a final toast to the end of their studies.