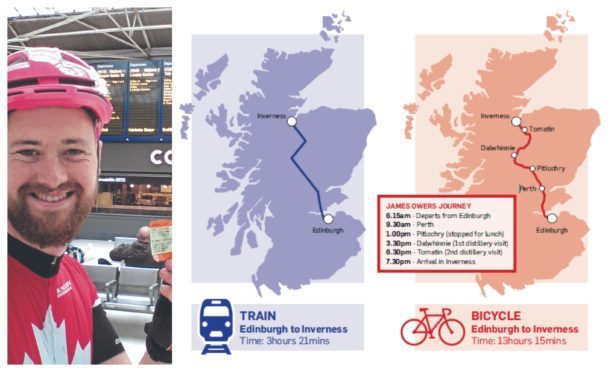 When James Owers discovered he had left it too late to get his bike onto the train for a training trip in the Highlands, he would have been forgiven for giving up on the whole affair.
But he found a novel solution – and cycled the route instead.
Mr Owers – who is studying for a Phd in Data Science at Edinburgh University – bikes belonging to him and his girlfriend on the Virgin Train service to Inverness, but there was only one space.
To avoid disappointing his girlfriend Deena Bardsley and her father who he was training for a charity bike ride he said he would "just cycle it."
Mr Owers said: "I was training them for a cycle from Paris to London in aid of the Mind charity, so I was in trouble if I couldn't make it."
With the clock ticking he would have to leave Edinburgh at 6.15am while the train  departed at 4.34pm – there was also a large pizza bet on who would arrive first.
But Mr Owers was not prepared for how much he enjoyed the "absolutely charming" trip that made him want to take the scenic route.
He said: "I was tempted to go through the Cairngorms but for the sanity of my partner – we were texting our locations the whole time – I took the main route around."
He also visited a couple of distilleries enroute, and then asked a local man where he could get some whisky and was directed to a little cottage in Tomatin.
He said: "I knocked on the door and this lovely woman answered with her little dog. I explained my situation to her and she went inside and came out with a bottle. She absolutely refused to take any money for it."
"The distillery has been in contact saying that her husband works there, so I have her contacts now so I will send her a little thank you."
By 7.30pm he was in Inverness actually before the train, leaving him time to message "nah na na na nah – I beat you to Inverness."
Virgin Trains have congratulated him on his cycle, a spokeswoman said: "We're really impressed by James's efforts to take to two wheels and pedal 170 miles in 13 hours. We hope he gets to put his feet up before setting off on his cycling tour."
Deena's fundraising page can be found here: 
www.justgiving.com/fundraising/cycle2paris4mind