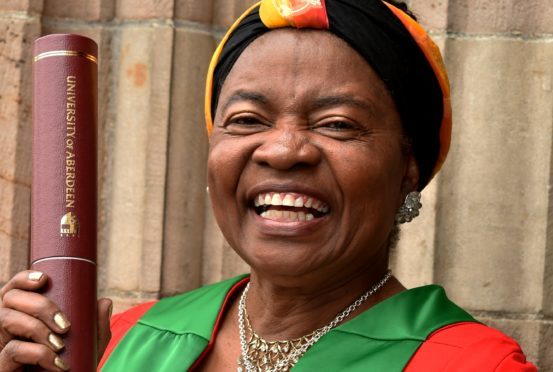 A leading nutrition and food science expert, who spent decades working to reduce poverty and hunger in Africa, was recognised with an honorary degree of Doctor of Science by Aberdeen University yesterday.
Professor Ruth Oniang'o, who was Kenya's inaugural Professor in Nutrition, was presented with the accolade at the university's graduation ceremonies for the schools of medicine, medical sciences, nutrition and dentistry.
During her career in nutrition, Professor Oniang'o has served as a member of Kenya's parliament, where she brought in a bill to address drought and famine, and spoken at major international events including the World Food Summit in 1996.
Speaking to the hundreds of happy students and their proud families at the ceremony in Elphinstone Hall, the professor talked about her unique link to Scotland and offered some advice for the nutrition experts of the future who had just received the degrees they had worked so hard to secure.
She said: "My connection to Scotland is not on the internet, it is not something you can Google.
"My two principals in my intermediate school and high school were missionaries from Scotland.
"They really instilled values in me – they helped me to recognise what I could be good at.
"When you see a challenge, you must turn it into an opportunity. You must show respect for your fellow human beings, regardless of the colour of their skin, or their religion, or their gender.
She added: "I had meant to do medicine, or dentistry, and I toyed with the idea of pharmacy, but I saw so much real life malnutrition in children.
"I had felt the hunger pangs myself, even though my mother had tried her best, and I had seen children who could not walk because their tummies were so big from malnutrition.
"I thought, if we address the issues of food, we can solve all of the problems, but I have learned that in reality there is so much more to address.
"You must go beyond what you study, beyond the degree you receive today and go beyond the call of duty.
"So congratulations to all of you young people. But don't be satisfied with what you have achieved today – look ahead, discover, and find new opportunities."