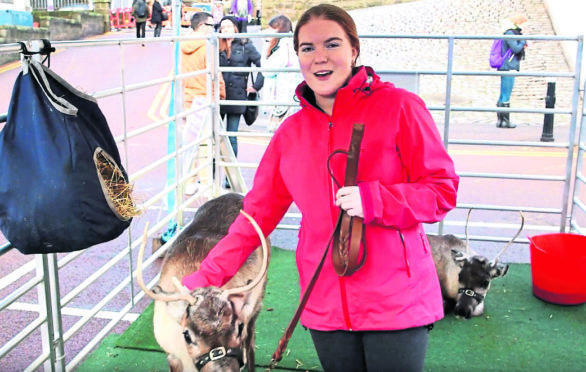 Animals could be banned from Aberdeen University's campus buildings under a controversial new policy being debated by its committees.
The proposals would impact upon all non-service animals – recognised support animals such as Guide Dogs would be exempt – preventing them from being brought into teaching and public areas.
The university has played host to a number of animal visits in recent years, with a display of reindeer and owls taking place at the union's Refreshers Fare in 2016.
On a more regular basis, students use pets as support animals to combat anxiety and other conditions.
Should the policy pass, Aberdeen University would be following in the footsteps of Stirling University, which banned dogs in all buildings from January 1 this year in a bid to secure the safety and well-being of both students and staff.
It said animals could pose "particular risks in the working environment", from allergic reactions to bites and scratches.
Aberdeen University's draft policy is being considered by its various committees and has been brought to the attention of the University and College Union (UCU) for their opinion.
It is likely that it will be a significant amount of time before a final decision is made.
A UCU spokeswoman said: "The draft policy was initiated by the university and has been under discussion and negotiation between the university and the recognised trade unions – as is normal practice for policies relating to staff.
"Having reached this stage in the discussions we put the draft policy out to our membership for feedback and this is currently being collated and considered."
Staff are said to be divided on the issue, with merits on both side of the argument being recognised.
Timothy Baker, who researches interspecies companionship at Aberdeen University, is among those who has written to the UCU to voice his views.
He said: "I have heard of one case of allergies, and there may be more, but to my knowledge, there is not currently a widespread problem.
"On the contrary, the mental wellbeing of staff and students has overwhelmingly been improved by dogs – and other companion animals – on campus.
"Animals on campus promote a sense of community.
"I have often encouraged students to bring their animals to class. This is carefully monitored. All students need to agree and of course care needs to be taken if there's anyone with allergies or a phobia. I also make sure the animals don't run amuck."
Mr Baker argues that students can learn better with dogs in the classroom and that the presence of companion species can lead to better attention and engagement with the material.
He said: "I believe that allowing companion animals on campus promotes both staff and student wellbeing and mental health and that it makes the university a better place to work.
"As the proposed prohibition is an answer to a problem that does not exist, I strongly oppose it."
An Aberdeen University spokesman said: "A draft policy with regard to pets being taken into University buildings is currently being considered by the relevant committees.
"It would be inappropriate to comment further whilst these processes are ongoing."