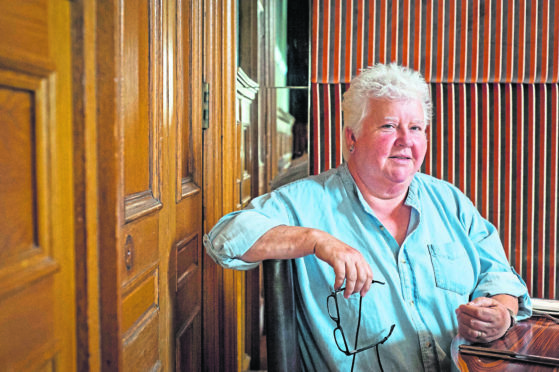 She is renowned as Scotland's Queen of Crime and has become internationally acclaimed for her noir-ish thrillers.
But Val McDermid said yesterday she was concerned about female wellbeing, both on and off the pages of her labyrinthine novels.
And she will visit Aberdeen University's Elphinstone Hall on November 1 to speak at a lunch in support of a UK charity dedicated to improving women's health.
Ms McDermid has been a regular presence in the Granite City recently, whether through her involvement with the book festival, Granite Noir, or with her band Fun Lovin' Crime Writers, alongside other famous authors.
She told the Press and Journal she was an admirer of the organisation, Wellbeing of Women, and will join charity supporter, Lady Jane Catto, to spread the word about its current work and the challenges it faces.
---
>> Keep up to date with the latest news with The P&J newsletter
---
She said: "I always enjoy a warm welcome in Aberdeen, so I am looking forward to this lunch in the historic university precinct.
"I will be sharing stories about my life and work, and particularly my new book, Broken Ground, and I am there to be entertaining for the audience.
"Most importantly, though, the funds raised from this event will contribute to Wellbeing of Women's ongoing research into women's health, which is a cause close to my heart.
"I have supported their work for a number of years because what they do is vital for women, for their families and for all our futures."
The Scot's books inspired the TV series Wire in the Blood, and she has been one of the judges for this year's Man Booker prize.
Last 20 tickets left for @valmcdermid upcoming talk on Thursday 1st November in #Aberdeen!
Get tickets here: https://t.co/jYRmPzdQCK #BrokenGround

— Wellbeing of Women (@WellbeingofWmen) September 20, 2018
But Ms McDermid said she was glad "the tide was turning" about the way that women were often depicted and treated in so many crime novels.
She added: "In the past, there was often no concern shown for the female victims in these books. They were raped, dismembered, brutally murdered and it was almost regarded as a cheap thrill.
"I have never been interested in writing about the subject matter in that manner, so I am glad the tide is turning.
"There are a lot of women writing about crime these days and I am hopeful they are bringing a fresh approach to the subject matter."
Wellbeing of Women
They are one of the few charities dedicated to finding cures and treatments across the breadth of female reproductive health.
This includes pregnancy and childbirth, fertility, gynaecological cancers, and overlooked areas such as endometriosis, polycystic ovary syndrome and the menopause.
Many of the routine tests and treatments that form everyday clinical practice can be traced back to the organisation's work, such as the use of ultrasound in pregnancy and the importance of taking folic acid.
The group also funded Professor Henry Kitchener, who linked HPV to cervical cancer which led to the HPV vaccination programme in schools, making cervical cancer preventable for the first time.
Its work is carried out across Britain, including several initiatives in Scotland.
Find out more information on the Wellbeing of Women website.