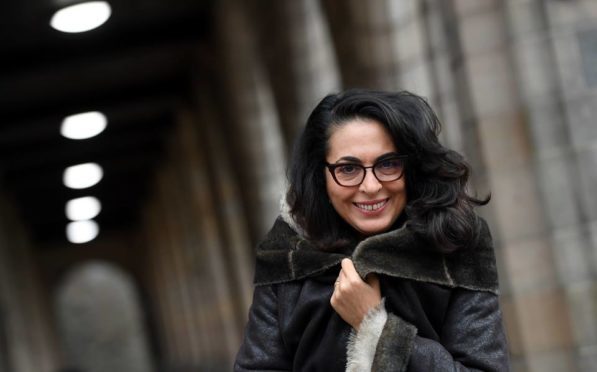 An author who witnessed the collapse of the Twin Towers from her workplace in New York visited Aberdeen last night to explain how the experience has shaped her life and her work.
Annisa Bouziane was on the 20th floor of the 2 Penn Plaza skyscraper on Seventh Avenue when she watched in disbelief as a second plane commandeered by terrorists soared into the World Trade Centre and killed thousands.
She visited Ground Zero five days later and remains haunted by the "smell of ash and death" and sight of flames still flickering among the rubble of the once-proud structures.
Last night, Aberdeen University's Arab House Society invited Ms Bouziane to deliver a talk on her new book, Dune Song, which is partly based on her own experiences during and after 9/11.
Speaking in the university's Taylor Building, the writer explained that the writing process had helped her come to terms with the events of that day.
She said: "I saw the plane hit and I saw the Twin Towers fall, and I have to admit I don't think I would have had the courage to use that as the inciting incident of my book if I had not seen it happen.
"Five days later I went down to Ground Zero, and I saw the flames still burning and I was close enough to smell the smell of ash and death.
"Physically I have not been well since that day, I am now severely asthmatic as I suffered from having inhaled the air there."
Ms Bouziane, who was born in Tennessee to an Arab Muslim father from Morrocco and a French mother, suffered Islamophobic abuse in the wake of the atrocity and lists that among a number of reasons for her later leaving the United States.
Dune Song, which was published by Dingwall-based Sandstone Press, tackles timely subjects such as national identity and immigration using the protagonists's experience of 9/11 as a starting point.
The author said: "I put my character in exactly the same place I was in when I watched the towers fall, and she makes that same walk through Manhattan all the way to Harlem that I did.
"It took me a few different versions to get this book right, but the act of writing it allowed me to process things and not feel so overwhelmed by what I saw.
"But, when I go back to New York, there is never a time when I look up at the skyline and am not haunted by the emptiness."