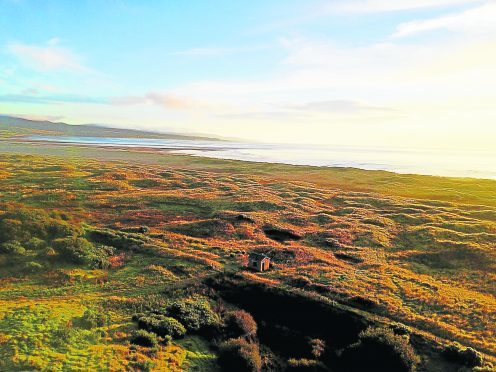 Top conservationists have been called to give evidence at the controversial Coul Links public inquiry next year, it has emerged.
The East Sutherland golf development has been inthe public eye since plans were first launched in 2015 for an 18-hole championship course spanning 805 acres, by US businessman Todd Warnock and developer Mike Keiser.
Now nature witnesses have been announced by the Conservation Coalition, a group of seven environmental organisations who have come together in a bid to halt progress on the links, who regard the site of significant importance to wildlife.
Campaigners have argued proposals would completely destroy more than 34 acres of internationally important, irreplaceable dune habitat and disrupt the natural dune processes and ecosystems.
Professor Colin Galbraith, formerly a director and chief scientist with Scottish Natural Heritage (SNH), has been appointed as one of the witnesses.
Professor Galbraith said: "There is a powerful case against these development proposals. Internationally important wildlife sites, including Coul Links, undergo a careful designation process and are strictly protected from inappropriate developments such as this one".
Other witnesses will include Jonny Hughes, chief executive of the Scottish Wildlife Trust, Buglife Scotland's conservation director, Craig Macadam and Dr Mark Young, an Emeritus senior lecturer at Aberdeen University and author of over 200 research papers on ecology.
Mr Hughes has previously been involved in campaigning against the links course for Coul, questioning figures produced by the developers relating to the number of visitors the course would generate within its first decade.
Larger playing fees and a significantly lesser history compared to nearby Dornoch Links were cited by Mr Hughes as reasons for rejecting the developer's claims that 250 indirect jobs, plus a £60million boost to the East Sutherland economy, would be delivered in the courses first 10 years.
Jonny Hughes said: "Coul Links is globally important for nature conservation and because of this it is among one of the most heavily protected areas in Scotland. It is alarming that these damaging plans have come so far.
"The Scottish Government's response to Coul Links is a test of its commitment to caring for our most important habitats. Our evidence will demonstrate the immense damage that will be done by carving out a golf course in this truly special place, and we hope it will lead to a swift rejection of the plans by Scottish Ministers."
Scottish Government ministers called in an inquiry due to the proposal rising "issues of national importance in relation to heritage issues and its compliance with Scottish Planning Policy which require further scrutiny at national level."
The move came after the SNH upheld their objection after Highland councillors overturned planner's advice at the North Planning Applications Committee in June and approved the development.
The site in which developers plan to transform into the 18-hole championship golf course proposed is protected as a Loch Fleet Site of Special Scientific Interest due the presence of a vast array wildlife.