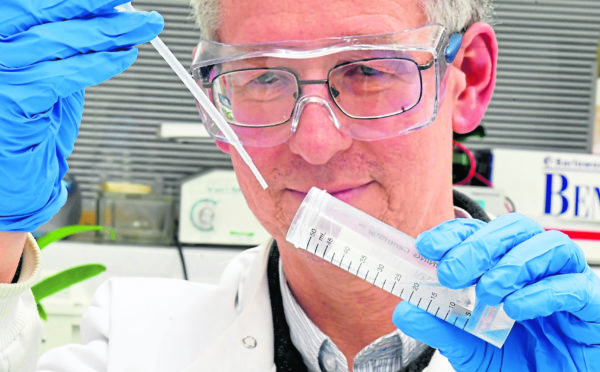 Love them or loathe them, they will be a part of almost every Christmas meal tomorrow.
And now, scientists in Aberdeen and Durham have reported "positive" developments between the humble Brussels Sprout and the development of new drugs to treat Alzheimer's, ALS and Parkinson's disease.
The team at Aberdeen University, led by Professor Peter McCaffery, has been working with Durham University for the last two years on a synthetic version of drugs which are basically supercharged receptacles versions of Vitamin A – a substance found in a number of vegetables, including sprouts and carrots.
In the body vitamin A is turned Into retinoic acid, which then interacts with specific receptors in the brain and nerves and plays a role in the development of the human central nervous system.
It is particularly important for the eye and brain as the embryo is developing.
Their work has yielded what Prof McCaffery described as treatments with "very good potential" to halt the effects of neuro-degeneration which occur in several serious conditions such as Alzheimer's.
They have also offered apparent benefits in dealing with ALS, or Lou Gehrig's disease, which affects muscles of the arms, legs, mouth and respiratory system.
The scientists, including Prof McCaffery, Dr Iain Greig and Prof Bettina Platt in Aberdeen, and Prof Andy Whiting in Durham, carried out the research in conjunction with chemical development company, High Force Research.
They are now preparing patents for their findings and will publish the results in 2019, following the two-year £250,000 project, funded by the Biotechnology and Biological Sciences Research Council.
Prof McCaffery said: "Our work is still at an early stage, but we believe this is a positive development and the new drugs seem to protect neurons and have a neuro-protective effect.
"It's obviously very important to find ways of tackling neurological conditions, and these super versions of Vitamin A are making a difference, at least in the laboratory.
---
>> Keep up to date with the latest news with The P&J newsletter
---
"We now want to test them further and apply for the necessary patents, but I am pleased with how things have progressed since 2016."
He added: "We have basically been trying to create a massively amplified version of what vitamin A already does for the body.
"By exploiting the natural consequences effects of retinoic acid and creating a synthetic alternative, we are moving forward with a new therapeutic which could be used to help people with Alzheimer's disease.
"Added to that, our unique screening process is an exciting innovation which should increase the efficiency of the process and could have implications beyond this particular project."