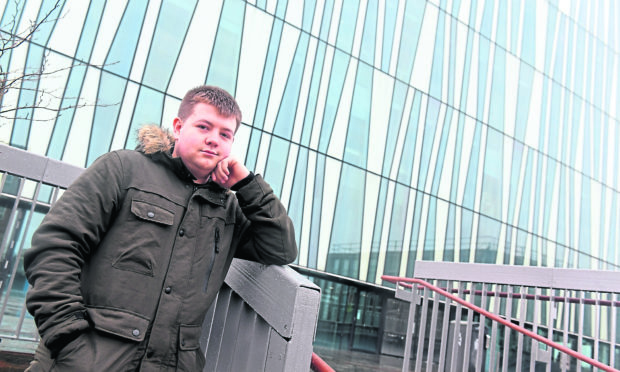 A north-east student has issued a desperate appeal after his laptop with his entire dissertation saved on it was stolen.
Mark Johnston from Peterhead is trying to track down his Macbook because it has all his final piece of coursework for his mechanical engineering degree.
The computer was taken from Aberdeen University's Sir Duncan Rice Library last Friday afternoon, just days before his deadline.
Mr Johnston's 10,000 word piece has to be handed in by April 9 and he claims higher education bosses have given him just a one day extension.
The 22-year-old is studying at Robert Gordon University (RGU) but prefers to use the library facilities at the other institution's campus on Bedford Road.
Mr Johnston left the computer to get some fresh air and when he returned it was gone.
He checked with the library and security staff but a check of the building's CCTV proved fruitless.
After setting up an alert on the laptop so he would be notified if it went online he traced it to a city shopping centre.
Mr Johnston said: "On Saturday I got an email that the Macbook had been online in Union Square.
"It was only online for one minute so I am guessing that the thief opened it and it had played the sound which is set to play when it is registered lost and closed again.
"I am assuming it was used in the Union Square Starbucks as that is the only wi-fi in Union Square. I know for sure that I have used before so it would be able to automatically connect there."
A spokeswoman for RGU said it would not be appropriate for them to comment on the case.
Police confirmed they are probing the apparent theft and urged people not to leave valuables unattended.
A force spokeswoman said: "A theft of computer equipment from the Sir Duncan Rice library in Aberdeen has been reported to police and officers are looking into it.
"The theft has been reported to have occurred sometime between 3.40pm and 4.40pm on Friday, March, 29."
Last night, a Aberdeen University said it was disappointed to hear of the apparent theft and urged students not leave any items unattended.
He said: "We were really disappointed to hear about this incident and our sympathies go out to Mark.
"We will help the police with any inquiry that may arise and we have sent a message to students reminding them not to leave personal belongings unattended."
Mr Johnston has also asked for anyone with information about the laptop to contact him on m600detail@gmail.com.