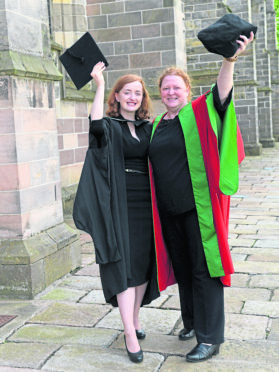 Aberdeen University welcomed back one of its most distinguished alumni yesterday as Dame Sue Black was awarded an honorary doctorate.
And the day was made even more special as her daughter Anna received her undergraduate degree during the same ceremony.
Hundreds of graduates from the university's School of Law received their degrees in a grand marquee on the grounds of a sun-drenched Elphinstone Hall.
Known across the world for her work as an anatomist, Dame Sue was the lead forensic anthropologist for the UK during war crimes investigations in Kosovo and has also served in Sierra Leone, Grenada, Iraq and Thailand.
Speaking to the Press and Journal, she talked of her debt of gratitude to the university, which has played such a big role in the lives of her and her family.
"It's hugely important to be recognised in Aberdeen," she said.
"I started my work. The first time I started to learn the importance of the human and the identification of the human happened here.
"To come back, gosh, 33 years after my Phd, and 37 years after my undergraduate degree, and for it to still feel like it's home, is incredible.
"And that's what I think the university does for you. It provides that second family and makes you feel as if you're coming home."
Despite her achievements, Dame Sue wasn't the only member of her family being honoured yesterday, with 22-year-old daughter Anna receiving a Bachelor of Laws degree.
"She didn't study at Aberdeen because it was my alma mater, it was because it felt right for her," she said.
"We were delighted, of course, because both my husband and I are alumni of Aberdeen, but for her to come here as well gave a sense of completeness.
"She wants to be a criminal lawyer. She wants to work in the Crown Office and said 'maybe one day, Mum, I could be questioning you on the stand.'
"She loved the idea that she could make my life difficult."
Anna, who grew up in Stonehaven, said: "My mum is one of the most hard-working people I've ever known.
"Not a lot of people get to graduate with their mum, which is pretty cool, and to have my whole family here is just really lovely, especially with the weather."
She added: "It was very much an independent choice to do law. It feels like I've found a passion."
Graduations continue throughout the week, with further honorary degrees also being awarded.