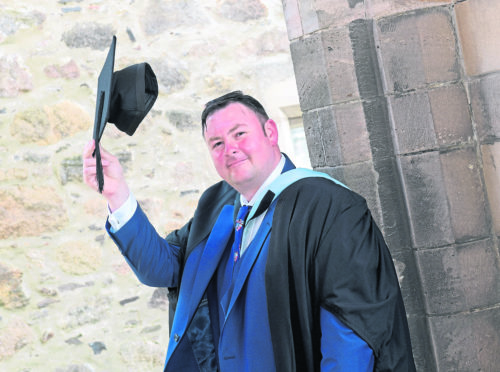 An Elgin dad urged others to hold on to their dreams after graduating with a law degree yesterday.
Father of two Eamonn Mitchell, 36, achieved his goal the hard way, after leaving school at 17 and working in a variety of jobs including at department stores, hotels, lighting companies and railways, all while supporting a family.
On the surface Mr Mitchell has it all, with a wife and two children, aged 17 and nine, with a promising career ahead of him.
But he said it had been a "hard slog" to get to this point.
He said: "Doing it at a mature stage of life, while being married, being a father, holding down a job – it's had its challenges.
"I worked at various jobs while I was here, and I got married during my degree as well, so it's been pretty full-on.
"It's an enormous transformation from what I came from.
"I left school at 17 with two highers, and came here through the access programme.
"That took a year, working full-time during the day and spending my nights at the university, before I could begin the first year of a degree, so my route was quite unorthodox."
His message to those contemplating a life change is simple.
"Never give up – there's always help out there," he said.
"Never give up on higher education – it's always a possibility, especially in Scotland.
"University has changed my life.
"It feels a bit unreal today, but here we are."
'I've loved every minute of it'
A law graduate managed to complete her degree while narrowly escaping being taught by her brother, a lecturer within the department.
Graduating with a Bachelor of Laws, Katie MacPherson, 22, leaves behind brother Alisdair, 33, who teaches commercial law in the School of Law.
"I came here before Alisdair, so I think I was the inspiration for him rather than the other way around," said Katie.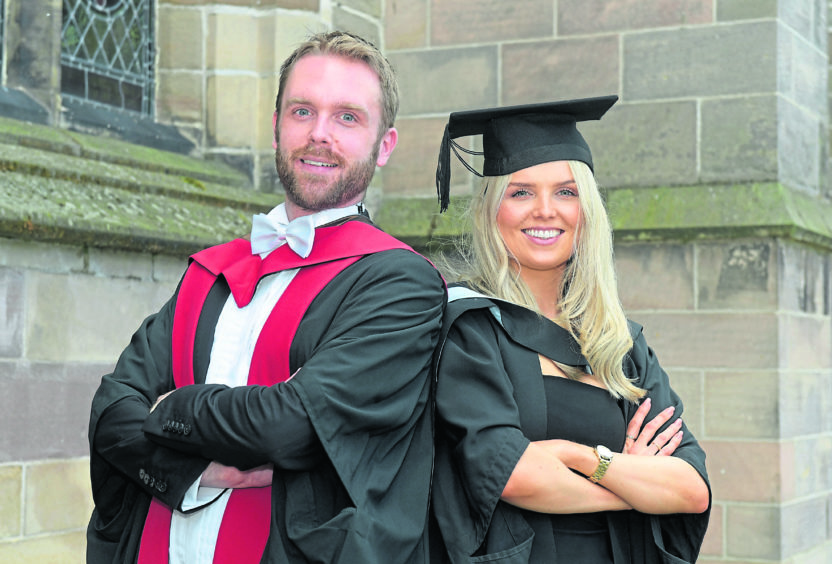 According to the siblings, originally from Dunblane, they are the only ones in the family who have studied law, so it appears to be coincidence rather than genes that they ended up in the same place.
"There was a possibility I could have taught her for one of her subjects, but she doesn't like any of the same areas of law as me," said Alisdair, who joined the department in June last year.
While he will stay on at the department in his permanent position, Katie plans to do a postgraduate diploma before specialising in family law.
First up, however, she plans to take a year out to travel.
"It has felt like I've had more support up here since Alisdair moved up and academically it's nice to have someone to help you who's also a family member," she said.
"I always thought I'd get there in the end, even if there were times when I wondered about that, particularly before exams.
"I'd actually never been to Aberdeen before I moved here. The first time I saw it was the first day of my degree, but it's been one of the most enjoyable things I've ever done.
"I've loved every minute of it."
Law graduate Laila rises above the setbacks
An Aberdeen woman who suffered several bereavements throughout the course of her studies has spoken of her joy at completing a law degree.
Receiving her Bachelor of Laws was bittersweet for Laila Kennedy, 22, who was a close friend of fellow student Emily Drouet, who took her life in 2016 following a campaign of abuse by her boyfriend in a case that shocked the country.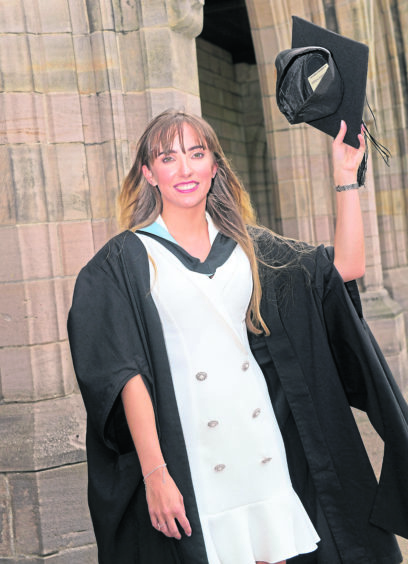 "I've had quite a lot of losses of family and friends throughout my time at university, in each of the four years of my degree," said Laila.
"It's something I've found difficult to cope with at times, on top of doing a law degree.
"I met Emily during the applicant day back in March 2015, so we basically started together.
"She was actually one of the reasons why I chose Aberdeen – she was so friendly and kind. We got on so well and she was very like me in terms of her nature.
"We started together and although we haven't finished together, I just thought I had to do it for her as well as for me."
Laila added: "Before I started university, if I'd been given a 10,000-word dissertation to do, I'd never have managed that.
"But it was just about being determined, because I had all these people to to push on and get a good grade for and they would have been disappointed if I'd dropped out.
"I'm coming back to do diploma in September and next year I'll also be starting an internship at Ledingham Chalmers, so good things are coming."