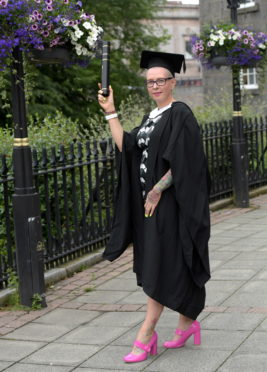 An ultra-marathon runner from Inverurie has celebrated making it to the academic finishing line – as she graduated with a business management degree from Robert Gordon University yesterday.
Sarah Hall juggled being a wife, a mum, looking after two dogs, a full-time job with Aberdeenshire Council and a passion for long distance running to complete her course.
The 36-year-old, who works as a support services officer at the local authority, described the offer of the distance learning opportunity as "too good to turn down".
She said: "I really like how the course was delivered as it allowed me to continue to work full-time in my current role.
"Studying is hard at the best of times but to do it while working full-time and dealing with everything else in my life is amazing, although I don't really think it has fully sunk in what I have achieved.
"It is absolutely possible if you put your mind to it."
During her four-year course Mrs Hall trained for and completed an ultra-marathon and three marathons.
She said: "The running clears the head and relieved the stress of it all.
"I managed to strike a balance quite well, and it was only while writing my dissertation that I really felt any stress at all. That was the last big push."