Professor Sue Black has had to deal with some of the worst crimes and disasters in modern times.
As professor of anatomy and forensic anthropology at Dundee University until last year – she is now working at Lancaster University – this is a woman who has focused for three decades on mortal remains in her laboratory, where they are burial sites, or involve scenes of violence, murder and criminal dismemberment.
In 1999, she was the lead anthropologist for the British Forensic Team's work during the often harrowing war crimes investigations in Kosovo.
She was also one of the first forensic scientists to travel to Thailand following the Indian Ocean tsunami of 2004 to provide assistance in identifying the dead.
More recently, she surprised more than 300,000 "Outlander" aficionados when she announced that Lord Lovat, Simon Fraser, was not residing in a coffin built for him at the Wardlaw Mausoleum.
The Invernessian was appointed Dame Commander of the Order of the British Empire in the 2016 Queen's Birthday Honours for services to forensic anthropology.
Throughout her busy life, Prof Black has maintained her strong sense of humanity, as she demonstrated when she published a highly-acclaimed book – All That Remains – last year, which offered her very personal analysis of death, whether examining its causes, people's attitudes towards it or her philosophy in dealing with it.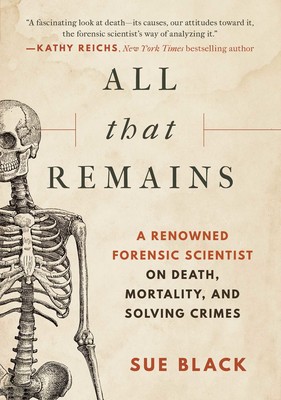 It is not a subject which is often covered in depth, but Prof Black approached her task with clarity, authenticity, unstinting humanity and even humour about one of the few things which unites us all.
And she will be involved in a Book Week Scotland event at Waterstones in Aberdeen on November 23, where she will address many of the key issues in her work.
Prof Black said: "This book is not a traditional treatise on death. It is, like forensic anthropology itself, which seeks to reconstruct through death the story of the life lived, as much about life as about death – those inseparable parts of the continuous whole.
"I've seen some truly awful things in my life, but there has always been a spark of humanity that completely sends all of that darkness into the corner."
"As long as we have got the positivity of human kindness and respect, dignity and decency, that's what we need to be celebrating."
Her talk at the Bon Accord Centre is from 6.30-7.30pm. Tickets are priced at £2.00 and everyone is welcome.