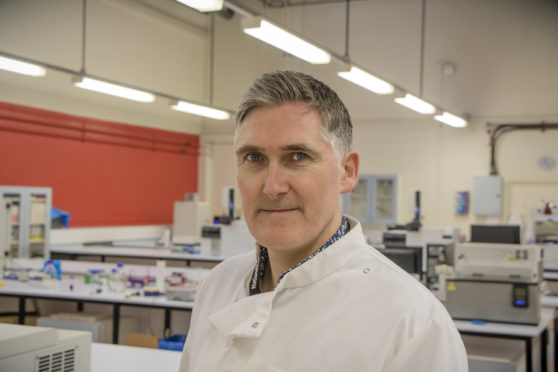 Crime lords attempting to flood the north-east's super-jail with drugs are being blocked by pioneering technology – and the expertise of a north-east scientist.
Working from a high-security laboratory, Craig McKenzie and a team of chemists have been using sophisticated methods to expose gangs' smuggling techniques – at times tracing products back to the grimy Chinese factories manufacturing them.
The number of drugs incidents at HMP Grampian has been rising steadily in recent years, in conjunction with an increase in suspicious mail seizures at the Peterhead facility.
Criminals have been caught "impregnating" everyday writing paper with drugs and posting it to inmates. Once inside, it is portioned into small strips and sold to others who can smoke or vape it to feel the effects.
In order to tackle the problem, the Scottish Prison Service has launched a pilot study at Dundee University to develop new ways of identifying illegal substances, with its findings being used to help at facilities across the country.
The Forensic Drug Research group primarily focuses on synthetic cannabinoid receptor agonists (SCRAs) – man-made, cannabis-style products often referred to as Spice.
These were legal and able to be sold in shops until three years ago, when a blanket ban recategorised them as class B drugs.
Dr McKenzie, a forensic chemist and senior lecturer, said: "These drugs are normally made in international laboratories, mainly in China, bought off the web then imported into the UK and made into whatever.
"They used to come as herbal cannabis-like plant material, sprayed with these chemicals.
"After the law changed in 2016 and they could no longer be sold in shops, they pretty much disappeared from the streets in Scotland.
"But by impregnating them in letters, they see it as a successful way to get into places like prisons."
The vast majority of synthetic cannabinoids are already known to researchers, with sophisticated scanning techniques being used the world over to identify and learn more about them.
But Dr McKenzie has described the efforts to get one step ahead of manufacturers as a game of "cat and mouse".
Unlike the UK, which outlawed all such substances with blanket legislation, Chinese lawmakers are looking at each compound individually.
This requires drug makers to just make slight alterations to one ingredient, creating a new legally-distinct product with similar effects.
Dr McKenzie said: "The manufacturers make small changes to the chemical structure. They want it to have the same effect but they want to make it legal."
The group cannot fully divulge its methods for tracking the drugs trade as they do not want to tip-off the crime gangs at the heart of it.
But Dr McKenzie says their research has allowed them to track certain substances back to the factories they were manufactured in, and learn about which are proving most popular in prisons.
The Dundee University team are analysing trends several months in advance, and are able to make accurate predictions about what seizures prison guards will be making in the near future.
"They need information to understand how the deal with this, and our role is to provide scientific advice on that," he added.
"Prisons have a duty of care. We can stop drugs getting in but, if they do, they how do we deal with that and reduce harm?
"The prison service has been very, very proactive in this area and we are coming up with solutions to respond to it.
"If it works, it will work for a while. It will be a cat and mouse issue until such time that it's just not worth their bother to try and get these compounds in."