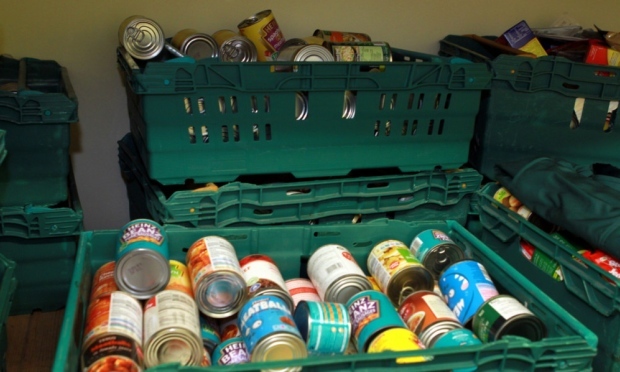 A shocking new study has revealed food poverty's growing impact on the long-term health of Scots.
Research has found the majority of people forced to turn to food banks and pantries for emergency supplies live with three or more debilitating health conditions.
And the impact of their struggles to secure enough food for themselves and their families is said to worsen those conditions as well as damage their mental health.
It has led academics to call upon health professionals, such as GPs, to give increasing attention to "economic vulnerability" as a potential health risk.
Flora Douglas, from Robert Gordon University, is the principal investigator for the study, which was undertaken in conjunction with Community Food Initiatives North East (CFINE).
She said: "People's capability to self-care is being undermined by food insecurity in Scotland.
"The individuals we interviewed have in-depth knowledge of the diet they need to follow. They just couldn't afford to do so, even if they were in work.
"Most of our participants reported eating just one meal per day or going for several days without food, opting instead to put food on the table for their dependents or to pay bills.
"This food scarcity was commonly associated by the participants as causing low mood or mental health challenges."
More than two million people in Scotland live with one or more long term health conditions.
The most recent 2017 Scottish Health Survey found that 18% of people living with limiting longstanding illnesses were also living with food insecurity.
Poor nutrition, mixed with poor health and the potential side effects of medication, can have a detrimental impact on long term conditions.
Side effects of multiple medications can become stronger with poor diet, leading to people diluting their prescriptions – worsening their condition and increasing healthcare costs.
Development work manager for CFINE, Dave Kilgour, said: "Food banks and pantries, which receive generous but unpredictable food stock from external sources, cannot guarantee the right and sustainable nutrition for people on multiple medications for long-term illnesses.
"We hope that this research develops the conversation we need to have as a society so that everyone, no matter their background, has access to the right nutrition when they need it most."
Ms Douglas added: "We've also found that economic vulnerability – a risk factor for food insecurity – is not necessarily apparent during a healthcare consultation.
"Health professionals should be alert to the fact that people's physical appearance, area of residence, or work status is no indication of a patient being food secure."
People across the north east who use food banks and pantries, aged 26 to 83, were interviewed for the study.
MSP Mark McDonald said: "Given that many individuals who find themselves in food poverty do so as a result of the welfare reform agenda, it is perhaps unsurprising that there is such a strong correlation with those who have long term health conditions.
"This research sets out the stark impact that this is having on the healthcare system."
Statistics released in March revealed 27,062 emergency food packages were handed out by north-east food banks alone over an 18 month period.
The research looked at 12 independent food banks in Aberdeen and Aberdeenshire between April 2017 and September last year.
Each packages was designed to last the recipient three days and contained basic food supplies.
The data was collected by the Independent Food Aid Network and the Oxfam project, A Menu for Change.
They analysed figures from 84 independent food banks in Scotland revealing that, across the country, 221,977 emergency food packages were handed out to those in need over the 18 month period.
The Trusell Trust supports more than 1,200 food banks in the UK and operates 50 in Scotland.
They distributed a further 210,605 three day emergency food parcels in Scotland between 2018 and 2019.