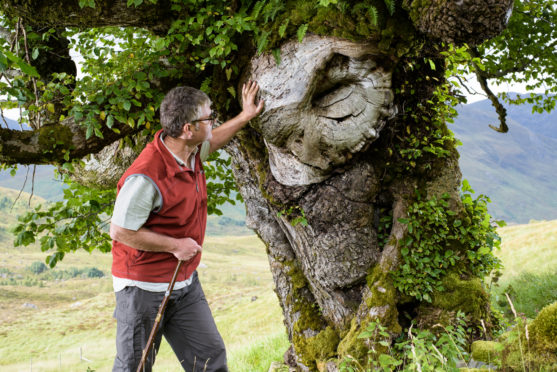 Conservationists have hailed the newly crowned Scottish tree of the year as the "symbolic leader" in the battle against the spread against Dutch elm disease.
The Last Ent of Affric – a lone elm in Glen Affric – picked up the coveted award last month, and was described as "reminiscent of an ancient tree-creature from Tolkien's Lord of the Rings" due to the peculiar face on its trunk.
Now campaign Elm Watch has been launched to prevent the spread of Dutch elm disease and conduct research on how to protect the species for years to come.
The disease was accidentally imported into the UK from Canada in the late 1960s, spreading rapidly to reach Scotland within a decade.
It is estimated to have contributed to the death of over 60 million elm trees across the UK.
Alasdair Firth, of Woodland Trust Scotland (WTS), is involved in the campaign to save the trees.
He warned the disease is now making its way along the Great Glen towards the west coast, putting healthy elm populations "under threat".
He added: "The Last Ent of Affric is a wonderful symbol for the campaign.
"Ents serve as guardians or shepherds of the forest. As we launch ElmWatch, it is as though The Last Ent of Affric is marshalling its troops for the battle of the glens."
WTS has committed to providing funding to the University of the Highlands and Islands (UHI) to carry out a pioneering genomics scoping study to test DNA extraction techniques, with the aim of identifying disease-resistant traits in the elm species.
Euan Bowditch, from Inverness College UHI, said that although the disease is usually spread through beetles, humans are ultimately the biggest contributing factor through moving wood.
He Bowditch said: "If we can limit the movement of infected elm wood, we can give healthy elm populations, such as those in the west, a shot at survival."
The Scottish Government, through its Forestry Scotland branch, is now urging members of the public to avoid moving elm timber and firewood between regions to prevent its spread.
Members of the public are being asked to report sightings of what they believe to be infected elms through a new dedicated TreeAlert website.