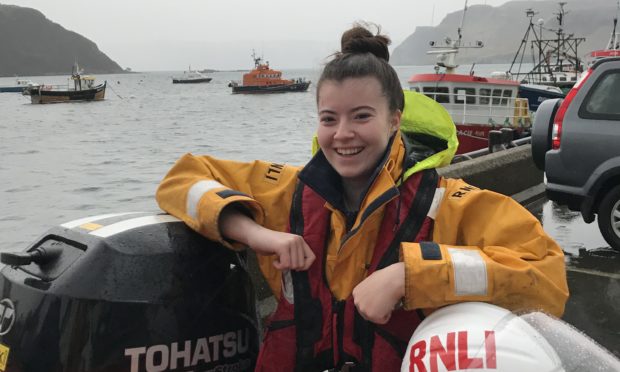 For some people, one emergency pager just isn't enough.
Skye teenager Chloe Urquhart was on call a year ago for the lifeboat in her home town of Portree.
This summer, she went east to Aberdeen to study – and is now on the roster for the city's RNLI team as well.
The 18-year-old moved to the Granite City after winning a place on the Gateway to Medicine course at Aberdeen University that should mean she is a resident there for six years of study.
She was accepted onto the Aberdeen lifeboat crew's roster as a full member at the end of November after attending the station each Monday night for training since moving in late August.
Miss Urquhart said: "Everybody at the station in Aberdeen has been absolutely fantastic with me. Initially, when I moved I informed them that I would be around for the next six years and was really keen to keep up my volunteering.
"I have been getting to terms with the training and procedures that go on here which are different to those at Portree.
"It really has been amazing to see how two stations, at totally opposite ends of the country, operate and deal with different incidents but both are just as equally amazing."
She has since been handed her first operational pager in Aberdeen, which means she is on call even during the time she spends at university, which could result in a mad dash from lectures.
Miss Urquhart added: "It has not been as challenging as I initially thought.
"Everybody here at the Aberdeen station has been incredibly understanding and they all appreciate that my studies come first.
"Most of them who are first to arrive at the station for training on Monday nights have even been roped into helping me with my studies, some even helping with flashcards which has been amusing.
"It can be quite difficult for everybody to get home and fed before heading to the station so we have a rota for cooking for each other so I have been told to prepare myself for cooking from anywhere from 10 to 20 members of the crew."
Since her first-ever shout, which came just days after Christmas 2018 to assist in a medical evacuation from Raasay, Miss Urquhart estimates that she has been on more than 15 shouts with the Portree crew – however, is eagerly awaiting her first proper job in Aberdeen.
She added: "The pager did go off every day for three days at the start but I wasn't able to make it in time and the one I did got stood down."