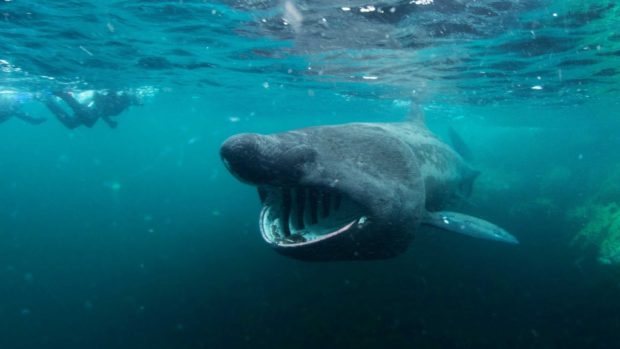 A groundbreaking study by north-east researchers has found the world's second biggest fish defies lone predator stereotypes and instead leads family members to fine dining spots.
Plankton-feeding basking sharks were previously thought to swim to food in unrelated groups.
But academics at Aberdeen University have found the giant sharks refer to travel with family to familiar feeding sites.
Basking sharks – which can grow more than 10 metres long – are under threat and were recently classed as 'endangered' by the International Union for Conservation of Nature.
In the north-east Atlantic, hundreds come together in surface waters during spring plankton blooms such as those that occur on the west coast of Scotland, Ireland and the Isle of Man.
Often seen near the coast, the sharks have been shown to cross ocean basins and equatorial regions, diving to depths of more than 1,000 metres.
By developing a register of genetic profiles, the scientists were able to identify individual basking sharks when they arrived to feed.
The results revealed that the fish repeatedly returned to the same feeding sites in successive years.
Regular shark swabbing built up a register of more than 400 DNA profiles, requiring a major global collaboration across five oceanic regions.
Over 85% of samples were taken from free-swimming sharks at key sites in the north-east Atlantic during the summer months.
The Irish Sea in particular was found to be an important migration route.
Widespread, regular sampling revealed basking shark groups consist of individuals more related to each other than the rest of the population, indicating a tendency to travel as extended family parties following prescribed seasonal migration routes.
Dr Catherine Jones, who co-led the study, said: "Perhaps relatives hang out together, which could facilitate learning migration routes and encourage other co-operative behaviours.
"They don't appear to fit the shark stereotype of a lonesome independent predator."
Fellow co-lead, Professor Les Noble, added: "Until this study the perception was that basking sharks moved into warmer waters from globally distributed localities, sniffing out a plankton meal as they got closer to feeding sites.
"Now we know they book in advance at known Michelin-starred venues and take the family along."
The study estimated the basking shark population size to be less than 10,000 and found the species to be particularly vulnerable to environmental change.
The research has been published in the Scientific Reports journal.