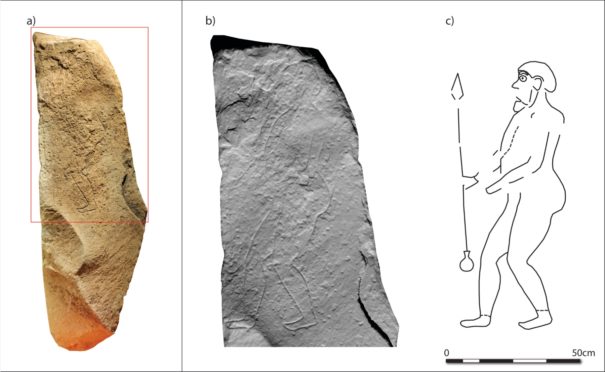 Archaeologists have offered a glimpse into Scotland's warrior past after recreating images of a figure on a Pictish stone.
During ground clearance work close to McDiarmid Park football stadium in Perth in 2017, a nearly two-metre-high monolith was found, depicting a man carrying a spear.
Though the outline of the man could be seen, the carving was faint in places and the surface of the stone had partly worn away.
But now, Aberdeen University archaeologists, which is leading the study of Northern Picts, have taken thousands of photographs to create 3D images.
This has clarified the design and allowed them to compare it to those found on other stones.
Head of archaeology at the university, Gordon Noble, and Perth Museum's archaeological curator Mark Hall said the artefact – known as the Tulloch Stone – is a "significant find" which adds to the body of material available for study.
In a paper published in the academic journal 'Antiquity', the research team argues that similarities observed between the Tulloch Stone and those found at Rhynie in Aberdeenshire and Newton of Collessie in Fife are "filling the gaps" of Scotland's undocumented history.
Mr Noble said: "By looking at the three stones together, we have been able to draw new conclusions about what these figures represent.
"In line with the other stones, this is clearly a depiction of a warrior.
"It was found in a spot overlooking the coming together of the rivers Tay and Almond, a junction marked by a Roman fort and later a possible Pictish royal centre, suggesting the monolith might have been located in a cemetery of the elite."
Mr Hall said: "In Anglo-Saxon England, we have lots of examples of burials with weaponry and the poem Beowulf epitomises the warrior ethos of this period.
"This has not been evidenced in Scotland in the same way but here through the new Tulloch find and a reconsideration of long-known stones we can see that warrior ideology cast in stone."
He added that increased public awareness of Scotland's Pictish past was opening up new opportunities for important archaeological study.