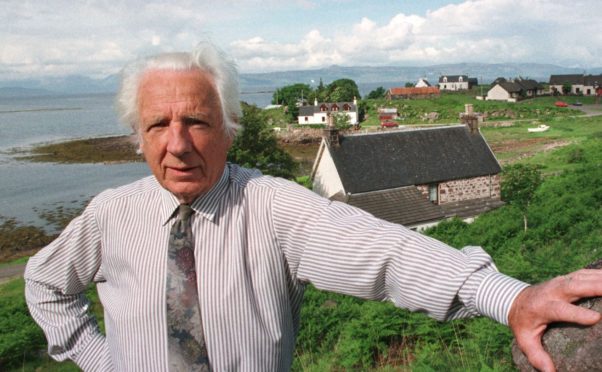 Alistair McCowan's tireless devotion to the Wester Ross village where he was born and raised was such that it caught the eye of the Queen.
The Applecross native, who has died aged 94, was awarded an MBE for his work in the Queen's New Year honours in 2003.
Mr McCowan, a former consultant engineer, was born at Raigmore Hospital in Inverness and raised in the picturesque spot.
He left to attend Glasgow University before embarking on a career that would take him across the globe, visiting Nigeria more than 90 times and making home in Bahrain.
Mr McCowan married his wife Margaret in 1978.
She said her husband always emphasised that he would continue working right up until the age of 70, and he did before it was time for the couple to return home to Applecross.
Upon returning to his beloved village, Mr McCowan devoted much of his time to fighting for improvements for locals, sometimes even sacrificing family time.
His active service as the chairman of Applecross Community Council, director and chairman of Applecross Historical Society and as secretary of Applecross Health and Community Care Service Association won him a place in the New Year's honours list of 2003.
Mr McCowan was a humble man who previously said: "I've always felt as though I have a contribution to make to Applecross."
At the time of his recognition by the British Empire, Mr McCowan said he was "quite surprised… but extremely honoured."
He continued to push for the benefit of his community and was one of the founding members of the South West Ross Community Car Scheme, a programme which helps people get out and about where access to public transport is unavailable.
Mr McCowan was also a trustee of Applecross Community Hall and served in securing finances as the secretary for Applecross Pier Users Association.
He was recognised with a Ross and Cromarty Civic Award in 2005 for his service to the community.
Mrs McCowan said her husband had an "unbelievably interesting life" that was "superb and exciting".
She said: "He put so much time and effort into Applecross, sometimes to the cost of family life and would often dart off to Inverness for meetings at the flick of a switch.
"He was adorable, he really was. So loving and caring."
Mr McCowan will be laid to rest at Clachan Burial Grounds in Applecross tomorrow.
He is survived by his wife Margaret, daughters Sue and Fiona, six grandchildren and two great-grandchildren.