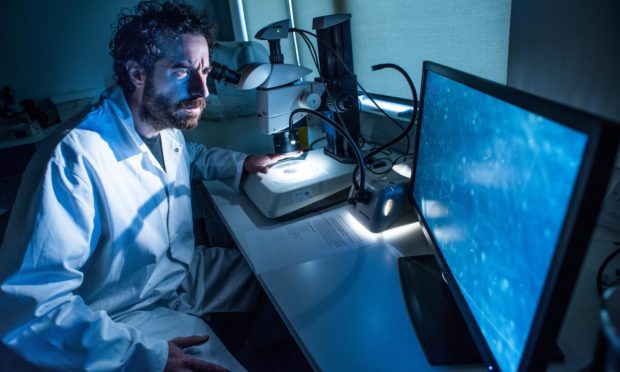 Researchers in the Highlands are exploring ways technology can help clean wastewater being released from hospitals and distilleries.
The University of the Highlands and Islands has received £245,919 from the Scottish Government's Hydro Nation scholars programme for two new projects.
The first will tackle the issue of clearing pharmaceutical drugs from hospital wastewater. A research team will examine whether new filters made from nanomaterials which adsorb and breakdown chemicals, together with exposure to specialised light, can eliminate them before they leave hospital water systems.
The project, which is being led by the university's Institute for Health Research and Innovation and North Highland College UHI's Environmental Research Institute, will involve innovations developed by the Oxford-based technology company, PolyCat UK and collaboration with pharmacists at NHS Highland.
Early testing with a prototype filter has shown promising results.
Investigations will also look at the effectiveness of reedbeds used to clean wastewater from the distilling process. The practice of running wastewater through reedbeds before releasing it into rivers and streams is used by many distilleries.
The environmental research institute will join Inverness College UHI's Rivers and Lochs Institute to use cutting edge 'environmental DNA' techniques to measure the diversity of the ecosystem in reedbeds and link this to water quality at a number of Scottish distilleries.
The project is being run in collaboration with the Malt Distillers Association of Scotland, the Scotch Whisky Association and the Scotch Whisky Research Institute, and aims to help distilleries maximise the reedbed process.
Two PhD students, Manuel-Thomas Valdivia from Germany, and Ilgaz Çakin from Turkey, will start this month on the four-year studies.
Mr Valdivia said: "I am motivated and optimistic that throughout the research I will be scrutinising and designing an applied, sustainable solution for eliminating these compounds at an early stage of the wastewater cycle, at key point-sources like hospitals, before they can reach rivers, lochs and ultimately our drinking water and cause harm."
Mr Cakin added: "The Scotch whisky industry exports approximately 900 million litres of whisky per year, but only around 10% of what flows out of a still is future whisky. The remainder is draff and pot ale – wastewater high in organics and copper."
He said the industry needs cost-effective, efficient and sustainable wastewater treatment to protect its traditional production methods: "This project will look at reedbed based systems from an entirely new perspective, helping distilleries optimise their wastewater treatment in a nation that knows the value of water – which makes me really excited."
Professor Stuart Gibb, director of the environmental research institute, said water is of central importance to the Scottish economy: "The Scottish Government is committed to making Scotland a 'Hydro Nation'. We are therefore delighted to extend our involvement in its scholarship programme with these new partnership projects."
Professor Ian Megson, head of health research and innovation, added: "We are beginning to understand that even minute quantities of chemicals can contaminate water and have profound effects on both the health of the environment and on that of humans and animals which depend on it."