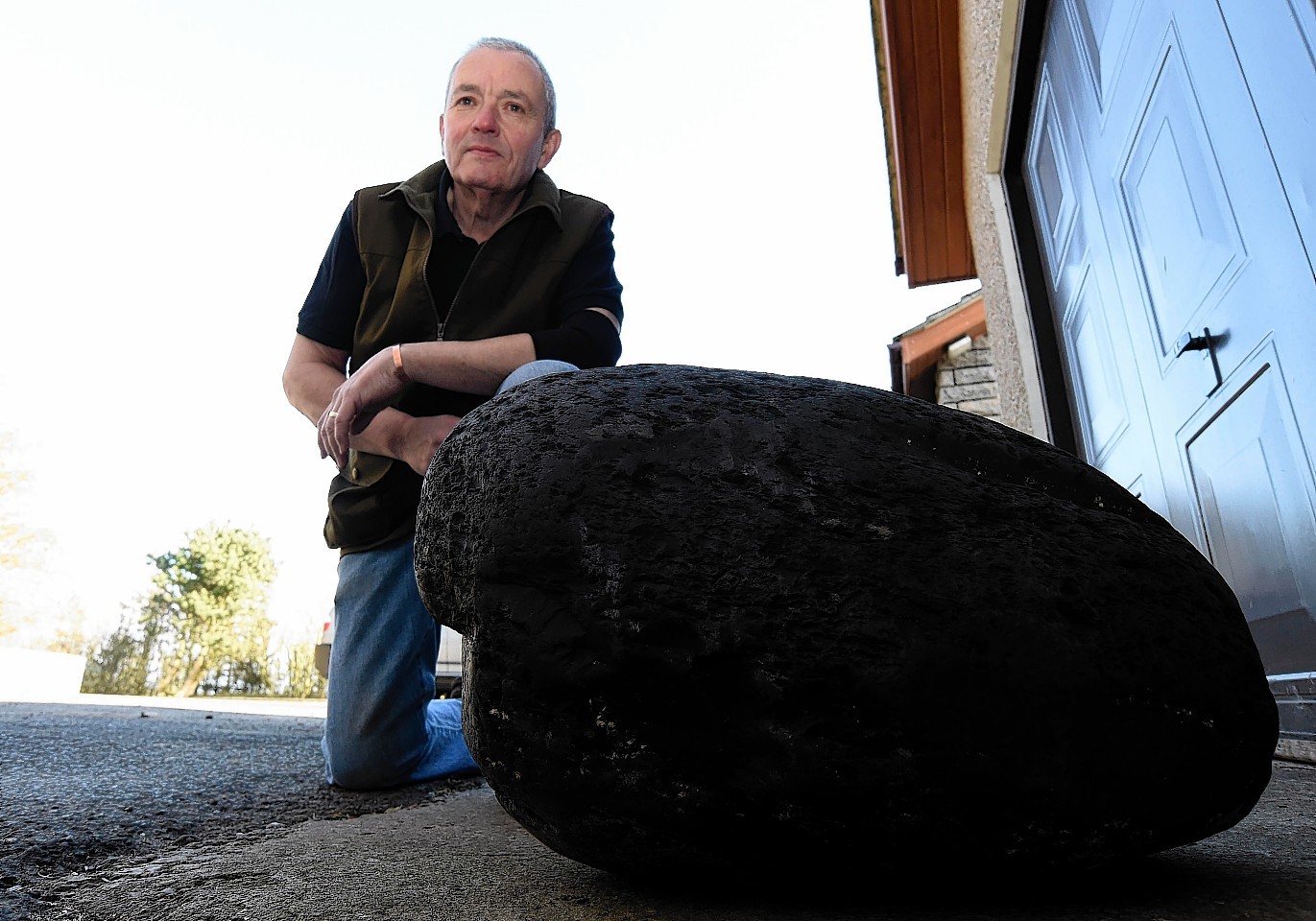 It was hewn from deep beneath the Earth's surface to fire industry, heat homes and power ships and locomotives.
And while Ian Tait's mystery beach find may not keep a family warm for long or send a steamboat very far, it is definitely a first footer's dream.
The retired fabricator discovered the huge chunk of coal during an early morning stroll along a north-east beach with his dog.
And if he was to use it to honour the Scottish new year tradition of arriving at a neighbour's armed with a piece of the black stuff, the 150lb lump would be worth more than just a dram or two in return.
Sixty-three-year-old Mr Tait found the colossal coal on sands at St Combs near his home at Cairnbulg, just south of Fraserburgh.
He said: "I first thought it was a boulder, but when I came back down in the light I had a proper look."
He had to winch it off the beach using his 4×4 vehicle.
He said: "My scale only goes up to 110lb and it went right off, so we reckon it's somewhere around 150lb.
"I've found a few little bits of sea coal before – usually when we get an easterly gale – but it could be bunker coal from some of the wrecks.
"When I was a kid we used to pick it up to burn off, but nothing this size, I've never seen anything the size of this. But it's obviously been in the sea for a long time, it's all rounded off.
"I don't know what to do with it."
Last night, Professor John Howell, a geologist from Aberdeen University's school of geosciences, said it was unusual to find coal so far away from a coal-bed region of Scotland.
"The coal we buy for burning has been mined and comes in much smaller pieces but it all starts life as part of a long and extensive coal seam," he said.
Professor Andrew Hurst, a professor of production geoscience at the university, added that it was likely the coal had come from a collier or steam-powered ship which sank.
He added: "The closest native coal would come from Brora in Sutherland, where the pit closed in 1976.
"It is unusual but big pieces of coal were shipped around the UK for a century or more."