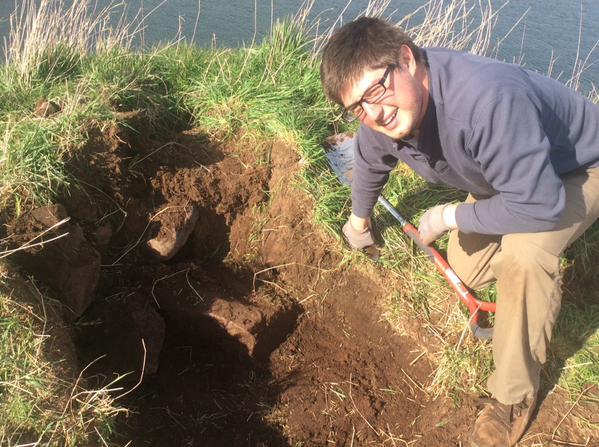 Archaeologists believe they have uncovered a Pictish fort off the coast of Aberdeenshire.
The team from Aberdeen University are examining a remote sea stack near Stonehaven – and believe their discovery could have been a "precursor" to Dunnottar Castle.
The castle is about a quarter of a mile south of the site the team is currently excavating.
A spokeswoman for the university said this was the team's "initial dig" at the Dunnicaer sea stack, and that their findings would still have to be verified.
However, the team believe they have found the remains of a house, a fireplace and ramparts.
A little warmer on Day 2 with the Archeologists from @aberdeenuni school of Geosciences. @NTS_archaeology pic.twitter.com/h9e5fp5F4b

— Duncan Paterson (@duncanpNEM) April 14, 2015
Lead archaeologist Gordon Noble said: "We've opened a few trenches so far. This is the site where, in the 19th century, they found six Pictish stones when a group of youths from Stonehaven came up the sea stack.
"Here we've got clear evidence of people living on the sea stack at least for part of the year. Certainly people are living here for long enough to create this really nice, well constructed heart and these lovely floor layers."
Duncan Paterson, of North East Mountaineering, helped the archaeologists reach the remote rocks.
He said the group were working around the tide, and that it was a "big challenge".
The team will continue the dig until the weekend.
Michael finding signs of the inside of a rampart near Dunottar @aberdeenuni @NTS_archaeology pic.twitter.com/Y673pOGTtH

— Duncan Paterson (@duncanpNEM) April 14, 2015