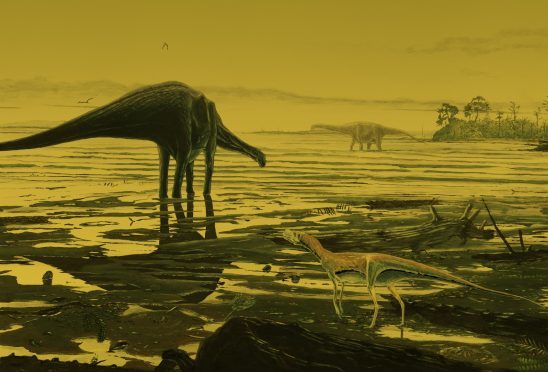 A "remarkable" collection of rare dinosaur tracks in north Scotland is helping scientists shed new light on some of the biggest animals ever to live on land.
Hundreds of footprints and handprints – dubbed a "dinosaur disco" by researchers – were made by plant-eating sauropods around 170 million years ago on the Isle of Skye.
The discovery – the biggest dinosaur site ever found in Scotland – helps fill an important gap in the evolution the huge, long-necked animals, which were the biggest of the dinosaurs.
Scientists at Edinburgh University identified the tracks in layers of rock, which would have been at the bottom of a shallow, salt water lagoon when the prints were made.
By analysing the structure of the footprints, the researchers found that the dinosaurs were early, distant relatives of more well-known species, such as Brontosaurus and Diplodocus.