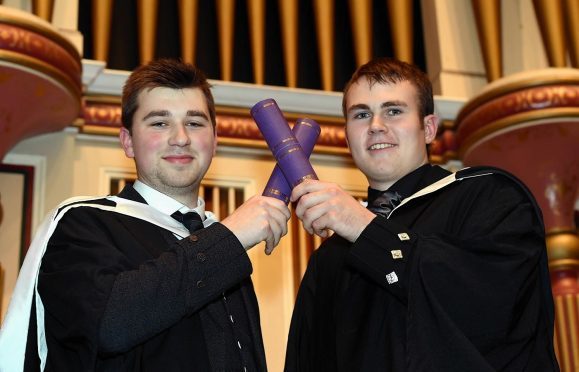 Two old school pals shared a day to remember after graduating from the same university course yesterday.
Walter Leith and Grant Morrison have been friends for a decade and the 21-year-olds both rounded off their MEng mechanical engineering degrees with mortarboard in hand.
"It's a good feeling – it kind of feels like we've completed it now," said Mr Morrison.
"I've gained a lot of confidence."
The pair, of Keith, managed to land scholarships with oil and gas related companies during their first year at university – Mr Leith with Talisman Sinopec and Mr Morrison with Technip – securing themselves financial support, industrial placements and mentoring through their degrees.
The scholarships led to offers of full-time employment, with Mr Leith taking up a graduate mechanical engineer position and Mr Morrison a graduate project engineer post.
Mr Morrison said he is now embarking on a career in distillation with Forsyths.
Mr Leith said he had a great time at RGU and added: "I have become a more confident and professional person and have made good friends, many of which I will have for the rest of my life."
Though having an old friend at the start of university life was good to have too.
"You've always got someone to speak to, you know someone from there which can be quite beneficial," he said.
"Walter was able to copy my answers all the time too," Mr Morrison smiled.