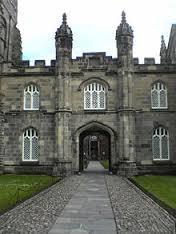 Scientists battling Alzheimer's disease at Aberdeen University will be able to purchase a vital new piece of equipment after receiving a major donation from an oil and gas firm.
The £45,000 gift from Apache will be used to purchase a peptide synthesiser – which will allow researchers to develop new treatments and ways to diagnose the condition.
Staff are currently forced to send samples back and forth from a laboratory in Italy, but will now be able to do it all in Aberdeen.
Professor Matteo Zanda, chairman of medical technologies at the university, was delighted by the gift.
He said: "We are extremely grateful for the generosity of Apache in donating the money for us to buy such an important piece of equipment which will aid us in our Alzheimer's disease research.
"Currently we have to access facilities in Milan which slows down the process considerably.
So, to have this facility in our own labs should enhance our productivity and effectiveness."
Patricia Paterson, executive assistant of Apache North Sea said the company was delighted to support the university with the purchase of such a significant piece of equipment.
She said: "Our approach to giving in the communities where we operate centres on a simple philosophy – to give where we live."
"We take pride in our corporate outreach program that is employee-driven, enabling and empowering them to nominate where the funding would be most valuable within our community."