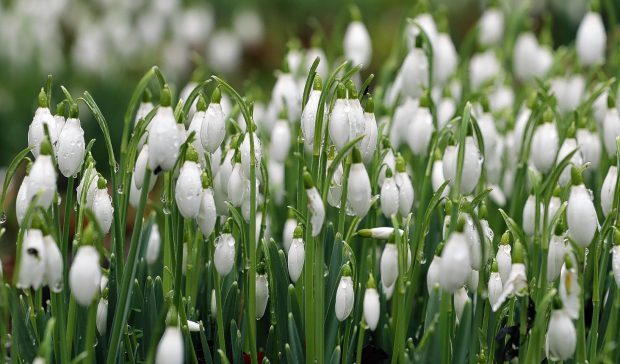 An annual festival to celebrate the arrival of springtime in Scotland will be held at a north-east castle for the first time this year.
Fyvie Castle will join more than 50 other properties across the country marking the Scottish Snowdrop Festival until March 12.
The event, which is now in its 11th year, aims to encourage locals and tourists alike to enjoy the gardens of Scotland's myriad historic sites during the flowering period of the iconic snowdrop: one of the signs that winter is almost over.
Visitors to Fyvie Castle will be invited to take a stroll around its grounds and lochs, which were landscaped in the 19th century, and the site's 18th-century walled garden to see if they can spot the iconic plant emerging through the undergrowth.
The festival is organised by the tourism group Discover Scottish Gardens, and is supported by Visit Scotland.
Other Scottish sites taking part in the event include the Royal Botanic Garden in Edinburgh, Dunnidald Castle in Montrose and Bruckhills Croft at Rothienorman.
Jo Robinson, regional director for VisitScotland said: "Over the past decade, the Scottish Snowdrop festival has grown to become an annual highlight with the first snowdrops of the year a sign that spring is just around the corner.
"It's fantastic that Fyvie Castle is joining this year's line-up, because the festival provides a welcome boost for attractions during a traditionally quieter period of the year.
"I hope as many people as possible will get out and about and enjoy this great seasonal sight.
"Many of the Scottish Snowdrop Festival locations are within the grounds of some of Scotland's most historical buildings.
"Such buildings are a perfect fit for Scotland's Year of History, Heritage and Archaeology.
"From world heritage sites to ancient monuments, cultural traditions to our myths, stories and legends, this year-long programme will shine the spotlight on our greatest assets and icons, as well as our hidden gems."
Catherine Erskine, the founder of the festival, added: "We are very lucky in Scotland to have a fantastic climate for snowdrops, with many species thriving and creating stunning displays.
"And this year, due to a mild winter, snowdrops are certainly popping their heads out earlier than they have for many years."
To find out more, www.visitscotland.com/snowdrop